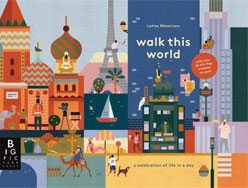 Walk This World: a Cel­e­bra­tion of Life in a Day
Lot­ta Niem­i­nen, a Finnish-born graph­ic design­er and art direc­tor
Big Pic­ture Press, an imprint of Can­dlewick Press, Novem­ber 2013
As you con­sid­er gifts for this hol­i­day sea­son, we sug­gest … (book #2 in our Gift­ed rec­om­men­da­tions) …
Vis­it 10 coun­tries in one book! This styl­ish lift-the-flap book is a chal­leng­ing work of art in all the right ways. There are so many paths for wan­der­ing through this book that you'll be engaged no mat­ter what your age may be:
Study the lay­out. There's a clever arrange­ment of squares and rec­tan­gles which con­dense trav­el­ing through a coun­try onto each two-page spread. Which aspect of the coun­try is rep­re­sent­ed in a par­tic­u­lar space? When you lift the flaps, does a sto­ry emerge?
Rep­e­ti­tion. There's a par­tic­u­lar char­ac­ter who is present in each coun­try, the "walk­er." Always doing some­thing dif­fer­ent, make up your own sto­ry about how that char­ac­ter is inter­act­ing with the cus­toms, food, and land­marks.
Rec­og­niz­ing pat­terns: Do you note what aspects of life are rep­re­sent­ed in each coun­try? Shop­ping? Birds? Wor­ship? Dance? How do these pat­terns emerge? This type of focus is use­ful for fos­ter­ing skills that will help with crit­i­cal think­ing, cre­ative prob­lem-solv­ing, and look­ing at art, read­ing books, and study­ing sub­jects in-depth.
Lan­guage. The round-the-world trip begins in New York City, the author's home, with the words "Walk This World." That phrase is present in each spread but in the native lan­guage of the coun­try. What are the sim­i­lar­i­ties and dif­fer­ences in the lan­guage?
Cul­ture. Sports, music, food, land­marks, ani­mals, veg­e­ta­tion: each is paid homage as we "walk" from coun­try to coun­try.
A beau­ti­ful work of art, Walk This World will please ages 4 and up, espe­cial­ly visu­al learn­ers, trav­el­ers, and peo­ple (chil­dren includ­ed) who'd like to exper­i­ment with their own art in this style. Per­fect­ly acces­si­ble, I rec­om­mend this book for a shared dis­cus­sion among chil­dren and adults, espe­cial­ly in a fam­i­ly or small group of two to five.