There is a sil­ly debate tak­ing place about whether adults who read children's books, includ­ing young adult books, are infan­tile and should have their driver's licens­es revoked because they're obvi­ous­ly not mature enough to play dodge 'em cars on the free­way and text while their two thou­sand pound vehi­cle hur­tles down the road. Grown up, indeed!
The out­raged dis­cus­sion, which keeps crop­ping up, seeks to jus­ti­fy why adults should be allowed to read books writ­ten for chil­dren and teens. Last time I checked, this is not a total­i­tar­i­an soci­ety dic­tat­ing what we can and can't read (cen­sor­ship efforts aside). From the time we can read our first sen­tence, we get to choose whether we read "up" or "down." That goes for kids as well as adults. For adults to be chastis­ing each oth­er about the books they choose to read is so buttin­s­ki that I hope the con­ver­sa­tion goes away.
Here is where the argu­ment for not read­ing children's books as adults tru­ly falls apart. All the best books have some­thing impor­tant for every­one, no mat­ter who the pub­lish­ing com­pa­ny decides the audi­ence is or which imprint pub­lished the book.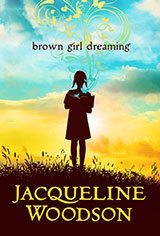 Brown Girl Dream­ing is an impor­tant book for chil­dren who are learn­ing empa­thy, com­par­ing their expe­ri­ences to oth­er children's, set­ting up the habi­tat for their lives.
Brown Girl Dream­ing is an impor­tant book for adults who are look­ing back, mak­ing sense of choic­es and diver­gent paths, and the world we have known, still chal­lenged by the expe­ri­ences of oth­ers.
This world of oth­er people's expe­ri­ences, whether they are non­fic­tion or fic­tion based on truth, is one that the read­er seeks to crack open every day, peel­ing back the skin, and enjoy­ing the suc­cu­lent rewards inside.
One of the themes in Brown Girl Dream­ing is home. Like the author Jacque­line Wood­son, I had two homes. One with my wid­owed moth­er in the big city, the oth­er with my mother's par­ents in a small, rur­al city. In one home I stayed inside to be safe and my moth­er drove me wher­ev­er we need­ed to go. In the oth­er home, we were close enough to the forests and hills that I could run there to touch them, ride my bike to the library, play foursquare with the oth­er kids in the street, step­ping aside when cars passed, until it was too dark to see the ball.
Jacque­line Wood­son brings back to me the for­lorn feel­ing of mov­ing between two homes, grow­ing beyond my friends because of those two homes, and the under­ly­ing feel­ings of betray­al. On some lev­el, I blamed my moth­er for not leav­ing me plant­ed in one place. She knew that, even though I nev­er said it out loud. On anoth­er lev­el, one might say I had the best of child­hoods because I had a vari­ety of expe­ri­ences.
Ms. Woodson's mem­oir in verse is riv­et­ing, not for what hap­pens, but for the abil­i­ty of the read­er to empathize so close­ly with what the main char­ac­ter is feel­ing. Whether you grew up in a four-block radius and didn't leave your envi­rons until you went to col­lege or you moved four­teen times by the time you were eigh­teen, the feel­ings of fam­i­ly, the span­ning of gen­er­a­tions, loy­al­ty, attach­ment to place, the val­ue of friends … these are parts of life that can be under­stood by all ages.
An adept writer, Ms. Wood­son choos­es words that vibrate in just the right way, paint­ing scenes, exam­in­ing peo­ple until we can begin to walk among them, com­fort­able observers. That's a gift to every read­er and was sure­ly nev­er writ­ten for "ages 10 and up" only.
The same can be said for read­ing pro­grams: you don't get to decide what age per­son can read which books. Peo­ple, includ­ing kids, have choic­es. Their par­ents, who know them best, can help with those choic­es. Let them read "up" or "down." We only know what's best for us indi­vid­u­al­ly. And some­times, two chap­ters in, we real­ize we made a bad call. That's part of the choice-mak­ing process too.
For this read­er, an adult, Brown Girl Read­ing was an excel­lent choice, an impor­tant book. Per­haps you'll think so, too.