In CLN's Chap­ter & Verse, with six of our book­stores report­ing, we had no clear win­ners for our mock Calde­cott, New­bery, and Printz Awards. Steve and I have vis­it­ed many of these loca­tions, talk­ing with the book club mem­bers. Each book club has its own char­ac­ter. The mem­bers bring dif­fer­ent life expe­ri­ences, dif­fer­ent read­ing pref­er­ences, and dif­fer­ent pro­fes­sion­al lives to Chap­ter & Verse. That's as it should be. It makes for live­ly con­ver­sa­tion. Many of these clubs have been meet­ing for more than five years. They know each oth­er well and wel­come new mem­bers with open arms. Anoth­er per­son with opin­ions! How won­der­ful.
Each month when we have dis­cus­sions, we report the results on our Chap­ter & Verse blog. Read­ing through the reports, it's clear that the group dynam­ic cre­ates a dif­fer­ent over­all feel­ing at each book­store. We try to rec­om­mend books and report pos­i­tive results, but it's very clear that there are always dis­sent­ing opin­ions. We've heard peo­ple say, fre­quent­ly, "I walked in here tonight not lik­ing this book, but I'm going to go back and read it again. I heard peo­ple say things tonight that have con­vinced me I need to take a sec­ond look." How cool is that?
Read­ing is an indi­vid­ual activ­i­ty, yes, but dis­cussing your read­ing with a group cre­ates anoth­er lens for look­ing at what you read. We look for­ward to our book group in the same way peo­ple all over the world val­ue theirs. We think hav­ing the oppor­tu­ni­ty, as adults, to talk about books writ­ten for the youngest kids and teen kids and in-between kids is an oppor­tu­ni­ty to cher­ish.
In antic­i­pa­tion of Mon­day's announce­ment of the ALA/ALSC Awards, we'll report the results from our mock dis­cus­sions.
You need to know that we have four books in each cat­e­go­ry to dis­cuss. They're cho­sen because they're among the most buzzed-about in a vari­ety of media. Book club mem­bers are encour­aged to bring in books on our meet­ing night that they think deserve to win the award. The four nom­i­nat­ed books are cho­sen because the mix engen­ders good dis­cus­sion.

Mock Calde­cott Award Win­ner
Book­case of Wayza­ta: Oh, No! by Can­dace Flem­ing and Eric Rohmann
Book­store at Fit­gers: No deci­sion
Mackin: That is Not My Hat by Jon Klaasen
Red Bal­loon Books: Words Set Me Free by Lesa Cline-Ran­some and James E. Ran­some
Red­bery Books: One Cool Friend by Toni Buzzeo and David Small
Mock New­bery Award Win­ner
Book­case of Wayza­ta: Won­der by R.J. Pala­cio
Book­store at Fit­gers: Won­der by R.J. Pala­cio
Mackin: Won­der by R.J. Pala­cio
Red Bal­loon Books: Won­der by R.J. Pala­cio
Red­bery Books: The Mighty Miss Mal­one by Christo­pher Paul Cur­tis
Mock Printz Award Win­ner
Book­case of Wayza­ta: The Fault in Our Stars by John Green
Book­store at Fit­gers: Code Name Ver­i­ty by Eliz­a­beth Wein
Mackin: Code Name Ver­i­ty by Eliz­a­beth Wein
Red Bal­loon Books: The Year of the Beasts by Cecil Castel­luc­ci and Nate Pow­ell
Red­bery Books: Nev­er Fall Down by Patri­cia McCormick
See what I mean? It's a good expe­ri­ence for all of us to under­stand the wide and dif­fer­ing needs that peo­ple have for the books they read.
And then there's the kids. Adults have one set of expec­ta­tions for the awards. Kids have anoth­er.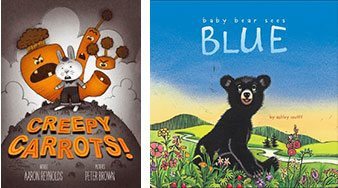 The Beardi­cott, giv­en by the K‑5 stu­dents of The Blake Schools, at the High­croft and Hop­kins cam­pus­es, was won by Creepy Car­rots! (Aaron Reynolds and Peter Brown) with an hon­or book being Baby Bear Sees Blue (Ash­ley Wolff). Their teacher librar­i­an, Paula Hud­dy, does not read the books to her stu­dents. She "talks the book" and then has her stu­dents seri­ous­ly con­sid­er the book's illus­tra­tions. They fol­low the Calde­cott guide­lines. They under­stand that text is not a part of the awards. Very impor­tant to con­sid­er what the kids them­selves find valu­able in the books they read.