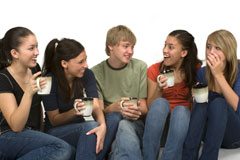 I've been spend­ing a good amount of time in cof­fee shops late­ly, work­ing. It's iron­ic for me to be grab­bing Wi-Fi juice in these ubiq­ui­tous icons of con­tem­po­rary soci­ety — I haven't ever tast­ed cof­fee. The whirring and smells and steam and ded­i­cat­ed caf­feine hunters make it a chal­lenge for me, but I've always been com­fort­able with xenobiology.
Seek­ing to relate my world to Cof­fee World, it occurred to me that cof­fee shops are miss­ing chil­dren's books. There are toys on hand in some places, but books are con­spic­u­ous for their absence.
How to inter­est cof­fee shops in stock­ing chil­dren's books? Steve and I had fun dur­ing a long car trip com­ing up with remakes of clas­sic chil­dren's books:
- The Lit­tlest Cof­fee Drinker of All
- Harold and the Pur­ple Cof­fee Cup
- Where the Wild Caf­feina­dos Are
- Blue­ber­ry Scones for Sal
- The Choco­late Lat­té Wars
- Dinky Hock­er Shoots Caffeine

- Kit­ten's First Mocha
and the book I would buy immediately:
- Make Way for Barristas
I'm just sayin'.
How about you? What titles do you nom­i­nate as cof­fee-hon­or­ing remakes?