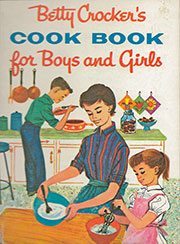 One of my favorite gen­res of read­ing is cook­books.
It all began when I was ten, the Christ­mas of 1963. My moth­er gave me Bet­ty Crock­er's Cook Book for Boys and Girls, orig­i­nal­ly pub­lished in 1957 by Gold­en Books, illus­trat­ed by Glo­ria Kamen, and writ­ten by, well, Bet­ty Crock­er, of course!
A lot of cook­ing hap­pened at my house. Between them, my grand­par­ents had 22 broth­ers and sis­ters and they all came to vis­it through­out the year. My grand­moth­er was a very good cook — she'd done it pro­fes­sion­al­ly for a doc­tor's fam­i­ly — but she did­n't always have time or patience for teach­ing. My moth­er com­plained that Grand­ma nev­er let her help in the kitchen. I got to help now and then, but most­ly I watched. And Grand­ma did­n't cook out of books — it was all in her head. Or her sis­ters gave her recipes on cards.
There­fore, a cook­book was a nov­el­ty. Per­haps my moth­er was get­ting me ready to be the fam­i­ly cook, but I did­n't know that. This was a wel­come gift, a curi­ous­ly new kind of read­ing expe­ri­ence.
To this day, I crave a new cook­book with com­men­tary, vignettes, fam­i­ly sto­ries, and infor­ma­tion about the ingre­di­ents. You can find a recipe online, but you can learn about life, cul­ture, his­to­ry, and adven­ture from a cook­book.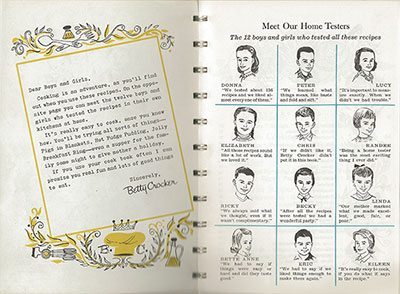 The peo­ple who cre­at­ed this book were bril­liant. (I don't want to burst your bub­ble if you don't already know, but Bet­ty Crock­er was an amal­ga­ma­tion of peo­ple.) They cre­at­ed "home testers," boys and girls who com­ment through­out the book, fur­ther­ing the impres­sion that every boy and girl can cook.
The recipes are sim­ple, but tremen­dous­ly cre­ative. Strong visu­al ele­ments are includ­ed to show the steps of a recipe, how you might dec­o­rate your fin­ished work, and how you might serve it. Pho­tos show many of the fin­ished recipes, but I pre­fer the illus­tra­tions. The illus­tra­tor, Glo­ria Kamen, draws believ­able chil­dren. Today, I believe there would be chil­dren of many col­ors includ­ed in this book and recipes would be rep­re­sen­ta­tive of our world cul­tures.
IN THE CLASSROOM
There's a repro­duc­tion avail­able today. You can give this as a first cook­book to your own chil­dren or grand­chil­dren or you can use it in the class­room as an infor­ma­tion text.
In today's terms, there's still decod­ing going on. You are read­ing, and it's much bet­ter than the back of the cere­al box. You are learn­ing to fol­low step-by-step instruc­tions, read expos­i­to­ry writ­ing, and orga­nize your respons­es in a way that fic­tion does­n't inspire. Cook­books pro­vide a set of skills that are essen­tial for every­day life. They pre­pare the way for sci­ence and math texts.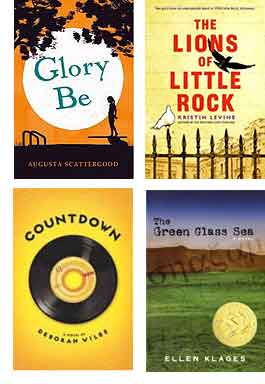 Look­ing at this book would be a per­fect paired text for Green Glass Sea by Ellen Klages or Glo­ry Be by Augus­ta Scat­ter­good or The Lions of Lit­tle Rock by Kristin Levine or Count­down by Deb­o­rah Wiles. A nov­el set in the 1950s or 1960s will pro­vide a set­ting to dis­cuss the food that was pop­u­lar at the time.
How are the atti­tudes of the fic­tion­al char­ac­ters echoed in the cook­book? (high­er order think­ing)
How has our atti­tude about food changed from the time this cook­book was pub­lished?
What is not in the Bet­ty Crock­er Cook Book for Boys and Girls that would be includ­ed today?
Com­pare the food talked about in the nov­el to the recipes pre­sent­ed in the cook­book.
This book will help you get across that read­ing does­n't always have to be about sto­ries … but every­thing we read adds to our knowl­edge and helps our under­stand­ing.
As for me, I'm mak­ing a recipe out of the Cook Book for Boys and Girls tonight. A year after I received this book for Christ­mas, I became the week­day cook at our house. My mom worked more than full-time … the book came in handy!
Do you have favorite cook­books for kids? I'll be shar­ing more of my own favorites in the weeks to come.