Syn­chronic­i­ty. We mark its occur­rence by say­ing the word out loud, not ful­ly grasp­ing its pow­er but under­stand­ing that we are hon­or­ing a con­flu­ence in our lives.
There are three con­trib­u­tors to my con­flu­ence: Ani­ta Sil­vey, Wen­dell Minor, and Kather­ine House.
Last fall, Ani­ta Sil­vey's book Every­thing I Need to Know I Learned from a Chil­dren's Book (Roar­ing Brook Press) debuted. I devoured it page by page, savor­ing the idea of each per­son being touched so deeply by a chil­dren's book, thought­ful­ly choos­ing the sin­gle vol­ume, and ably describ­ing how it influ­enced his or her life. As some­one who had a seri­ous prob­lem in sixth grade because she had read near­ly every vol­ume in the school library—and not yet know­ing there was a pub­lic library in our town (I know, it's hard for me to believe, too)—I am hav­ing a dif­fi­cult time choos­ing one book, but choose I must.
From Robert Bal­lard's choice of Twen­ty Thou­sand Leagues Under the Sea by Jules Verne to my hero Pete Seeger's choice of Rolf in the Woods by Ernest Thomp­son Seton to Julianne Moore's choice of Lit­tle Women by Louisa May Alcott to Kathy Bates' choice of Impuni­ty Jane by Rumer God­den to Jim Tre­lease's choice of The Call of the Wild by Jack Lon­don, I am enthralled by imag­in­ing how each of them chose one book. Did the title come into their minds right away? Do they often think about this book or did they go to that spe­cial spot on their book­shelves reserved for books from their child­hood? Do they still have that book? Is it in rough shape? Do they often re-read that book or is it a cher­ished mem­o­ry? I've been nar­row­ing down my own choic­es and I don't have a copy of any of the books I'm considering.
I know I can't choose my favorite chil­dren's book. I did­n't read The Dark is Ris­ing by Susan Coop­er until I was in col­lege. Although it influ­enced my writ­ing and sub­se­quent read­ing choic­es, I can't say that it influ­enced my life. Hmmmm.
Wen­dell Minor has been on my mind late­ly. A recent mem­ber of CLN, Lau­ra has put Wen­del­l's pages up and we're all enjoy­ing the depth and vari­ety of the books he has illus­trat­ed. As we report­ed yes­ter­day, Wen­del­l's work has been added to the col­lec­tions of two impor­tant muse­ums. I saw an exhib­it of his paint­ings at the Leigh Yawkey Wood­son Muse­um in Wausau, Wis­con­sin. And today comes news that the Uni­ver­si­ty of Con­necti­cut will con­fer an hon­orary doc­tor­ate degree on Wen­dell Minor this month. Con­grat­u­la­tions! That's quite a dis­tinc­tion, Wendell.
What about the con­flu­ence? I'm get­ting there.
Kather­ine House reads wide­ly. She has been kind in shar­ing news about chil­dren's lit­er­a­ture with me. Kather­ine says about this par­tic­u­lar arti­cle that it is, "one of the most inter­est­ing arti­cles I have read about chil­dren's lit­er­a­ture in the main­stream media." Writ­ten by Steve Hen­drix of The Wash­ing­ton Post and pub­lished in that news­pa­per, Hen­drix does­n't state in "Into the Woods" that My Side of the Moun­tain by Jean Craig­head George is the most influ­en­tial chil­dren's book in his life but, if not, it cer­tain­ly means a great deal to him. This book was first pub­lished in 1959. A favorite read-aloud by many teach­ers around the world, you'll smile when you read how the book has inspired gen­er­a­tions of chil­dren. I sus­pect Hen­drix might choose My Side of the Moun­tain for Every­thing I Need to Know I Learned from a Chil­dren's Book.
Jean Craig­head George and Wen­dell Minor have teamed up as author and illus­tra­tor of many fine books. George is now over 90, still writ­ing, and Hen­drix inter­viewed her for his arti­cle. Two of the recent books George and Minor have cre­at­ed are The Buf­fa­lo Are Back (Dut­ton) and The Last Polar Bear (Harper­Collins).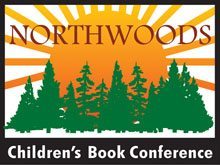 This fall (this is the con­flu­ence … you've wait­ed long enough) I will attend the North­woods Chil­dren's Book Con­fer­ence in Cable, Wis­con­sin, on Sep­tem­ber 30th through Octo­ber 1st. So many friend­ly peo­ple meet each year at this con­fer­ence to talk about their pas­sion for chil­dren's and young adult books: pub­lic librar­i­ans, school librar­i­ans, edu­ca­tors from K to col­lege, writ­ers, illus­tra­tors … it's great fun.
This year, Ani­ta Sil­vey's keynote will be about Every­thing I Need to Know I Learned from a Chil­dren's Book. Every­one par­tic­i­pat­ing in the con­fer­ence will have an oppor­tu­ni­ty to share their most influ­en­tial book in the clos­ing hour of the con­fer­ence. I'm real­ly look­ing for­ward to this. Not every­one can get up to the micro­phone of course—there isn't enough time—but I'm going to sub­mit my entry form (it's on the web­site) and hope I'm cho­sen. In the mean­while, I have to decide which book it is. I'd like to write about that book as elo­quent­ly as Steve Hen­drix, put it into the con­text of my life as well as the peo­ple Ani­ta Sil­vey chose for Every­thing, and find the con­nect­ing threads, the con­flu­ence of my choice. I'll keep you informed.
How about you? What chil­dren's or young adult book most influ­enced your life?