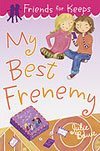 Once upon a time, an author wrote three books about a fourth-grad­er named Ida May who had friend­ship trou­bles. One friend moved away, leav­ing Ida May feel­ing unhap­py and untrust­ing. That sto­ry is told in My Last Best Friend. An intrigu­ing and adven­tur­ous girl moves to town and Ida May is excit­ed about My New Best Friend. In the newest book, My Best Fren­e­my, Ida May learns that friend­ships some­times devel­op in sur­pris­ing ways. Delight­ful books, being passed word-of-mouth among the ele­men­tary crowd.
But I digress from the fairy tale. One morn­ing (last Fri­day to be exact), the author wakes up to dis­cov­er that Amazon.com has placed an ad for its Kin­dle e‑book read­er in the New York Times. A full-page ad. On the back page of a New York Times sec­tion. Big, bold, you can't miss it.
Of course, there's a book cov­er on the screen because read­ing is what you do on Kin­dle and Amazon.com wants us to under­stand that immediately.
Here's the fairy tale part. Amazon.com (or its BFF, the adver­tis­ing agency) looks at a uni­verse full of book cov­ers and choos­es My New Best Friend by Julie Bowe to dis­play in the full-page ad. When I first learned this news, I thought … how lucky can one author be? They choose her book out of all those gazil­lions. And then I get it: My New Best Friend. That's what Amazon.com would like the Kin­dle to be. Oh, that's the mes­sage.
You know what? I think there's more to the sto­ry. I'll bet Amazon.com or the BFF has a read­er at home who loves My New Best Friend as much as we do and that's why they were smart enough to put this par­tic­u­lar book cov­er in their ad.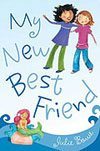 The author, of course, is smil­ing. As the say­ing goes, "You can't pay for this kind of adver­tis­ing." Really.
In this fairy tale, Serendip­i­ty smiles on our author, who chose to name her book My New Best Friend, nev­er dream­ing that choos­ing this title would bring her book to nation­al atten­tion in this way.
This is a fairy tale that leaves us all smil­ing. We could­n't be happier.