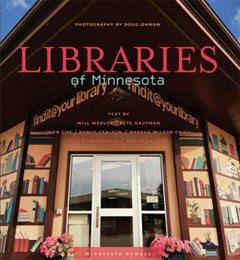 Call me crazy, but my fam­i­ly knows very well that trav­el­ing to a new city means vis­it­ing one site in par­tic­u­lar: the library.
It's best if we have time to go inside. I like to see the walls, the sig­nage, the spe­cial rooms. I look to see how the books are arranged, not only Dewey or Library of Con­gress, but where the teen books are shelved and how the chil­dren's area is set up and if there are sep­a­rate sec­tions for west­erns and sci­ence fic­tion or if they're inter­shelved with the rest of the fic­tion. I want to see if the car­pet is thread­bare and how many peo­ple are wait­ing to speak to the ref­er­ence librar­i­an.
On some vis­its, we only have time for a dri­ve-by. I try to soak in as much as I can of the ambi­ence, the neigh­bor­hood, and the build­ing design. It's not unusu­al for a fam­i­ly dis­cus­sion to start, "Yes, we've been to Ada before," with my reply, "Oh, I remem­ber the library … fair­ly new with that inter­est­ing mix of tex­ture on the build­ing's walls." This is usu­al­ly fol­lowed by a rolling of eyes.
Libraries have always been a source of pride for cities and small towns. Peo­ple under­stand intrin­si­cal­ly that there are pow­er­ful ideas inside, grow­ing, tak­ing root, find­ing a way to make indi­vid­u­als more … indi­vid­ual … and com­mu­ni­ties a bet­ter place.
Every state should have a book like the vol­ume just pub­lished by the Min­neso­ta His­tor­i­cal Soci­ety Press. Libraries of Min­neso­ta, show­cas­ing the pho­tog­ra­phy of Doug Ohman, is a stun­ning book. It con­tains page after page of pho­tos that exem­pli­fy the rich his­to­ry, art, and sense of humor on dis­play at pub­lic libraries in towns large and small, those where book­stores are plen­ti­ful and oth­ers where the library is the only place to find new read­ing mate­r­i­al. From the enchant­i­ng stained glass homage to read­ing at the Per­ham Pub­lic Library to the cas­tle-like Sum­n­er Library in Min­neapo­lis to the state­ly Glen­wood Pub­lic Library to the log cab­in Hack­en­sack Pub­lic Library, these pho­tos remind us how much we have invest­ed in our free pub­lic libraries and how much they have invest­ed in their com­mu­ni­ties.
The library on the book's cov­er is in Hous­ton, Min­neso­ta. Library Direc­tor Eliz­a­beth Gib­son-Gas­sett recount­ed that the library moved into their new build­ing in 2002. "It just kind of looked like a big cement bunker, and we didn't have a big bud­get," she said. "We want­ed to make the build­ing fun, and funky, and wel­com­ing." She applied for a grant from Valspar Paint Cor­po­ra­tion and took her inspi­ra­tion from a piece of giftwrap. Local artists Jean Colette and Jeanne Arentz did the out­line, and vol­un­teers from six years of age to 79 joined in to paint the build­ing. They had peo­ple from civic groups, youth groups, and passers­by help­ing out. That's what a com­mu­ni­ty does when it takes pride in its library.
The Min­neso­ta His­tor­i­cal Soci­ety Press designed the book to not only include the lus­cious library pho­tographs but they request­ed essays about libraries from sev­en Min­neso­ta authors: Nan­cy Carl­son, Mar­sha Wil­son Chall, John Coy, Pete Haut­man, David LaRochelle, Kao Kalia Yang, and Will Weaver.
I did­n't go to my first pub­lic library until I was 12 years old. Before that I rev­eled in the school library, but when I start­ed junior high Mom real­ized I need­ed a wider selec­tion of books from which to choose. It was love at first sight.
Each one of the sto­ries in Libraries of Min­neso­ta brought tears to my sen­ti­men­tal, pub­lic-library-lov­ing eyes. Whether it is Will Weaver's recount­ing of "the beat­ing heart of Amer­i­can democ­ra­cy" or Pete Haut­man's sto­ry about their moth­er tak­ing her sev­en chil­dren to the library on a sum­mer day or Kao Kalia Yang relat­ing the won­ders of dis­cov­er­ing the writ­ten word in libraries for her peo­ple who had no writ­ten lan­guage or David LaRochelle's laugh-out-loud remem­brance of a sum­mer read­ing pro­gram … all sev­en authors cre­ate a book that is sure to cap­ture your library expe­ri­ence.
If you live in a state with­out its own "library book," make it hap­pen. Your cit­i­zens deserve a book just like this one. It's a love song, a sump­tu­ous­ly visu­al col­lage of cre­ativ­i­ty and ideas, and an emphat­ic reminder of why libraries are at the very foun­da­tion of our democ­ra­cy. Libraries of Min­neso­ta shows — and tells — that we are a com­mu­ni­ty reliant on our ideas, reach­ing back into the past, look­ing for­ward to the future.