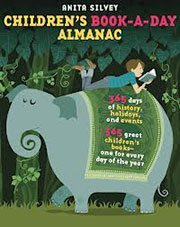 Ani­ta Sil­vey writes, among oth­er things, books that help us find good books. And not only does she help us find more books that we or our chil­dren or our stu­dents will enjoy, but she tells us the sto­ry behind those books.
Oh, what fun it is to know that Charles Dick­ens had to pub­lish A Christ­mas Car­ol him­self because his pub­lish­er did­n't believe in it.
Ho! Ho! Ho! for imag­in­ing a world with­out Cap­tain Under­pants because Dav Pilkey's teacher told him "you can't spend the rest of your life mak­ing sil­ly books."
Sea­son's Greet­ings! Where else would you learn that Wal­ter R. Brooks, author of the beloved Fred­dy (a pig who's a pri­vate detec­tive) books also wrote the short sto­ries that inspired the TV series Mis­ter Ed.
We need to know these things. They make read­ing more fun. We sound smarter when we talk to our friends. With our supe­ri­or knowl­edge, we sound like heroes when we tempt chil­dren to read these books.
Trust me. Give this book to a teacher, par­ent, grand­par­ent, or favored aunt and they will thank you. A smart choice all the way around.
The book's avail­able in paper­back or e‑book for­mat and it's an afford­able gift. Per­fect for a Secret San­ta exchange.