Farmer Will Allen and the Grow­ing Table
writ­ten by Jacque­line Brig­gs Mar­tin
illus­trat­ed by Eric-Shabazz Larkin
after­word by Will Allen
Read­ers to Eaters, 2013
Intro­duc­tion
My sec­ond pas­sion in life after books and read­ing is sus­tain­able agri­cul­ture and organ­ic farm­ing. There are a few good books for chil­dren on this top­ic, but I'm always delight­ed when a new, inspir­ing true sto­ry finds its way to my library. In this case, pro bas­ket­ball play­er Will Allen chose to focus on build­ing a com­mu­ni­ty gar­den in Mil­wau­kee, reclaim­ing urban land with poor soil and lit­tle life in it, involv­ing the neigh­bor­hood in grow­ing fruits and veg­eta­bles, and shar­ing his own love of work­ing togeth­er to bring healthy food to the table.
The author, Jacque­line Brig­gs Mar­tin, has writ­ten a num­ber of books that peo­ple cher­ish, includ­ing Snowflake Bent­ley, The Water Gift and the Pig of the Pig, and Chick­en Joy on Red Bean Road. In the after­word, she con­fess­es that she grew up on a dairy farm in Maine and didn't like to gar­den, any more than Farmer Will Allen did when he was a boy and his fam­i­ly depend­ed on that gar­den for food.
There's so much depth in this pic­ture book biog­ra­phy that I asked Ms. Mar­tin if she would talk with me about her book.
Inter­view
Q: How did you and your pub­lish­er, Read­ers to Eaters in Belle­vue, Wash­ing­ton, find each oth­er?
A: It was a Min­neso­ta con­nec­tion. Lau­ren Stringer and Anne Ylvisak­er had heard of Philip Lee's Read­ers to Eaters Books and they knew I was work­ing on a biog­ra­phy of farmer Will Allen. They sug­gest­ed that I send him the sto­ry.
Q: Was this a new edi­tor for you at Read­ers to Eaters? How do you adapt to work­ing with a new edi­tor?
A. Philip is won­der­ful to work with. He is very com­mit­ted to each book that Read­ers to Eaters pub­lish­es and told me only recent­ly that in order to edit a book he needs to do research on the sub­ject, too. He sug­gests where he thinks a sto­ry might be strength­ened but does not insist on spe­cif­ic solu­tions.
Q: Were you able to meet Will Allen in per­son? If so, how long ago? If not, did you inter­view him for this book?
A: I met Will Allen in 2012, after I had been work­ing on the book for quite a while. I had sent him ques­tions by e‑mail and talked with his assis­tant, as well as read many arti­cles about him and watched many inter­views done by oth­ers. I also had time to read his own book The Good Food Rev­o­lu­tion (writ­ten with Charles Wil­son, pub­lished by Gotham Books), before our book went to press and that was very help­ful.
Q: How do you choose what not to include in a pic­ture book biog­ra­phy?

A: Good ques­tion. I think the answer has to do with keep­ing to the sto­ry line, keep­ing the focus clear. For exam­ple, in Snowflake Bent­ley the sto­ry line was Wil­son Bentley's love of snow crys­tals and his ded­i­ca­tion in pho­tograph­ing them. He also was a great fan of Mary Pick­ford and orga­nized a com­mu­ni­ty band. But I felt that those two facets of his life would detract from the sto­ry of his love of the beau­ty of nature. And I only had a thou­sand words. The greater part of writ­ing that book was fig­ur­ing out how to pare the sto­ry to 1,000 words.
For Farmer Will Allen I want­ed to focus on his goal of grow­ing good food for peo­ple who oth­er­wise would not have it. That has been the dri­ving force in his life since the 1990s, so he made the writ­ing deci­sions easy. No Mary Pick­ford. No com­mu­ni­ty band.
Q: In the text, you talk about "the pow­er of one per­son with vision." Sev­er­al of your books fea­ture peo­ple like this, such as Snowflake Bent­ley and The Chiru of High Tibet. Do you look for sto­ries of peo­ple like this or do they come look­ing for you?
A: I think they find me. I do love sto­ries of peo­ple who have a pas­sion and pur­sue it. So I'm always glad when anoth­er such sto­ry finds me.
Q: "fresh veg­eta­bles
were as scarce in the city
as trout in the desert."
Much of this book reads like poet­ry. Is that a con­scious con­struc­tion on your part or does your mind nat­u­ral­ly write in poet­ic form?
A: I love the notion of com­ing across a trout in the desert. It would be a rare expe­ri­ence. I am not con­scious of try­ing to be "poet­ic." But I do try to real­ly inhab­it a sto­ry before I start to write, some­how live inside the world of the sto­ry.
Q: You've pub­lished one book about gar­den­ing before this, The Green Truck Gar­den Give­away (1997). Are food and healthy com­mu­ni­ties a strong con­cern of yours?
A: I grew up on a dairy farm. Food was our sus­te­nance and our recre­ation. We nev­er took vaca­tions, but it seemed like a hol­i­day when we had peas and new pota­toes or wild rasp­ber­ry pie, made from rasp­ber­ries my moth­er had picked that morn­ing. We were very aware of the fla­vor of the food we were eat­ing. So food has always been impor­tant to me. And we had it in abun­dance. It pains me now that about one-fifth of the chil­dren in this coun­try expe­ri­ence hunger at some time dur­ing their child­hoods. I want to march in the street about it.
Q: Do you grow your own gar­den now? If so, what did you har­vest this past year?
A: We have a small gar­den in our back yard and we belong to a com­mu­ni­ty sup­port­ed agri­cul­ture group so we have lots of fresh veg­eta­bles in the sum­mer and freeze as much as we can. In our gar­den this year we grew Swiss chard, toma­toes (from seeds I saved in the sum­mer of 2012), cucum­bers, pota­toes, zuc­chi­ni, and a few bell pep­pers. In pots we grew basil, rose­mary, thyme, sage, and pars­ley.
Q: Do you enjoy cook­ing? Do you have a gar­den pro­duce recipe to share with us?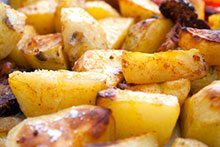 A: I do enjoy cook­ing. And I grew up with pota­toes. I could eat them three times a day. One of my favorite things to do with pota­toes is very easy.
Pota­to Recipe
Cut them in about 1−1÷2 inch pieces. (If they are small pota­toes, no need to cut.) Toss them with olive oil, salt and pep­per and roast them in the oven at 375 for 20 – 30 min­utes. We made these pota­toes for a book par­ty we had for Farmer Will Allen and the Grow­ing Table and kids just loved them.
Q: Some of my favorite books are includ­ed in the Resources in the back of your book. How did you pull togeth­er the mate­r­i­al for the "back mat­ter"?
A: We searched for books that would make it easy for kids to grow things, no mat­ter where they live. And of course we want­ed to pro­vide resources for more infor­ma­tion on worms. And we all know that a lot of adults read kids' books, so we felt com­fort­able includ­ing a cou­ple of books writ­ten not just for kids. And who can write about gar­dens and com­mu­ni­ty and not include Seed­folks?
Q: Is there an unex­pect­ed bit of feed­back you can share that you've received about the book?
A: This is not exact­ly feed­back, but it was pleas­ing to me to learn that an urban farm in Cedar Rapids, Iowa (about 20 miles from where I live) is there because of Will Allen's Grow­ing Pow­er Farm in Mil­wau­kee. A per­son in Cedar Rapids who loves to gar­den heard of Grow­ing Pow­er and want­ed to do some­thing sim­i­lar in Cedar Rapids. So now there are veg­eta­bles on what used to be a vacant lot. And that per­son is plan­ning to take a course at Grow­ing Pow­er this win­ter to become a bet­ter urban farmer.
Have you won­dered why chil­dren are hun­gry? Do you know chil­dren who have scant knowl­edge of where their food comes from? Do you want to do some­thing to help?
Jacque­line Brig­gs Mar­t­in's book about Farmer Will Allen is a start­ing point to read out loud and share with your com­mu­ni­ty. It will inspire you, it will move you, and it will help you under­stand that you, too, can do some­thing about hunger and the qual­i­ty of your food.