Giv­ing Thanks:
Poems, Prayers, and Praise Songs for Thanks­giv­ing
edit­ed and with reflec­tions by Kather­ine Pater­son
illus­tra­tions by Pamela Dal­ton
Hand­print Books / Chron­i­cle Books, 2013
ISBN: 978−1−4521−1339−5
The sea­son when we focus on giv­ing thanks will quick­ly be here. If you are look­ing for a gift to take to your hosts, to give to your fam­i­ly, or to give to your­self, this book is ide­al.
There are times when words fail. How do we give thanks in mean­ing­ful, soul-stir­ring ways that prop­er­ly express how we feel?
How can we reflect on being grate­ful, acknowl­edg­ing beau­ty, appre­ci­at­ing com­mu­ni­ty, under­stand­ing the joy and pain of this life?
In our house­hold, all occa­sions are made rich­er with a book.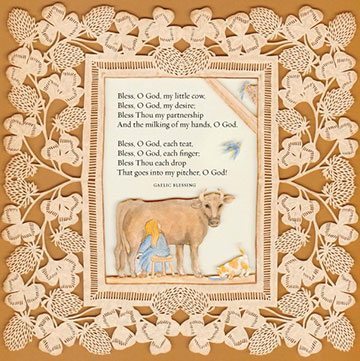 Togeth­er, Kather­ine Pater­son and Pamela Dal­ton have cre­at­ed a trea­sure that will at once inspire you, delight you, have you nod­ding your head in agree­ment, and even singing along to the lyrics that are print­ed as poet­ry. Have sev­er­al book­marks on hand to mark your favorite poems, lyrics, say­ings, and graces.
"Ooooooooooh, / The Lord is good to me, / And so I thank the Lord …" (the John­ny Apple­seed grace) can be found in the sec­tion, "A Cel­e­bra­tion of Life." Eleanor Far­jeon's "Morn­ing has bro­ken, like the first morn­ing / Black­bird has spo­ken, like the first bird" is present on a page dec­o­rat­ed by an intri­cate but­ter­fly and reas­sur­ing­ly round moon. A Native Amer­i­can proverb, the text for Cecil Frances Alexan­der's "All things bright and beau­ti­ful," the col­lec­tion is plen­ti­ful.
I find myself feel­ing grate­ful to have all of these essen­tial expres­sions of thank­ful­ness in one book.
Author Kather­ine Pater­son offers a reflec­tion on each sec­tion, includ­ing "Gath­er Round the Table," "The Spir­it With­in," and "Cir­cle of Com­mu­ni­ty." Read­ing any piece from this col­lec­tion would be appro­pri­ate for your days of thanks­giv­ing, no mat­ter the time of year. You might also read aloud her short essays that range across mar­veling at the hatch­ing of a cica­da to over­com­ing hatred to under­stand­ing what it means to "be poor in spir­it."
I have writ­ten before about Pamela Dal­ton's breath-stop­ping illus­tra­tions. She is a mas­ter of Scheren­schnitte, a six­teenth-cen­tu­ry paper-cut­ting art that fas­ci­nat­ed Hans Chris­t­ian Ander­sen and many oth­ers over hun­dreds of years. I have tried my hand at this art form; I under­stand how very dif­fi­cult it is. In her hands, it is filled with grace and thanks­giv­ing, a per­fect com­ple­ment for this book. You can see two sam­ples in this arti­cle, show­ing her tech­nique of cut paper, stained with a cof­fee solu­tion, and then "illu­mi­nat­ed with water­col­or."
As I read through Giv­ing Thanks, I found myself antic­i­pat­ing whether my favorite pieces would be includ­ed and I found each of them, includ­ing my favorite by e.e. cum­mings from "This Amaz­ing Day":
"I thank You God for most this amaz­ing
day: for the leap­ing green­ly spir­its of trees and
a blue true dream of sky, and for every­thing
which is nat­ur­al which is infi­nite which is yes"
Along with my favorites, I found many new trea­sures. I believe you will, too. Give this book as a gift of thanks to those you love. You will all be grate­ful.