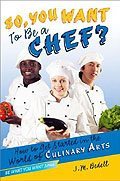 So, You Want to Be a Chef?
How to Get Start­ed in the World of Culi­nary Arts
Be What You Want series
J.M. Bedell
Beyond Words/Aladdin, Octo­ber 2013
Intro­duc­tion
If your child or teen is often caught watch­ing cook­ing shows, they're not alone. In 2010, Melis­sa Kossler Dut­ton on ParentDish.com wrote, "Every month, 12 mil­lion chil­dren ages 2 to 17 watch the Food Net­work." What would be bet­ter than a gift book that answers many of the ques­tions your child may have about work­ing in the food indus­try?
This book is a page-turn­er. It's so full of intrigu­ing infor­ma­tion, pre­sent­ed in small bites, easy for even the most reluc­tant read­er to gob­ble down. There are intrigu­ing facts, his­tor­i­cal tid­bits, advice about cre­at­ing menus, terms and def­i­n­i­tions, lists of essen­tial tools, quick quizzes, and Sea­soned Pro­files, inter­views with peo­ple who are swept up in their lives as chef, cater­er, restau­rant own­er, bak­er, restau­rant review­er, food sci­en­tist, food pho­tog­ra­ph­er … shar­ing with the read­er how they got start­ed and what keeps them pas­sion­ate about what they do. And there are recipes!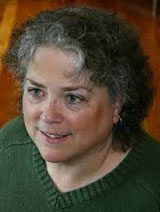 We asked the author, J.M. Bedell, to sat­is­fy our curios­i­ty about sev­er­al aspects of So, You Want to Be a Chef?.
Inter­view
Q: Did you con­ceive of this book or did a pub­lish­er invite you to write it?
A: I was con­vers­ing with my edi­tor one day about the e‑book release of my first book Find­ing Courage: History's Young Heroes and Their Amaz­ing Deeds. She men­tioned the Be What You Want series and I offered to send her some title ideas. Being a chef was on my list, so when the time came for her to find an author for that title, she offered it to me.
Q: Did you have an inspi­ra­tion for writ­ing about the culi­nary arts?
A: Nope. It was a voy­age of dis­cov­ery. Once I knew I had the title, I jumped in with both feet and researched the dick­ens out of the sub­ject. It was amaz­ing how will­ing peo­ple were to help. Each per­son I talked to added to my knowl­edge and led me to some of the inter­est­ing inter­sect­ing careers and culi­nary tid­bits of infor­ma­tion.
Q: Do you watch cook­ing shows on tele­vi­sion?
A: No. I've nev­er enjoyed real­i­ty pro­grams. I'd rather watch sto­ries. Give me a good mys­tery or a com­e­dy and I'm hap­py. How­ev­er, I did LOVE watch­ing old episodes of the British sit­com Chef!
Q: Are you a good cook?
A: Dou­ble NO! The stand­ing joke in our fam­i­ly is that if it doesn't have a hint of car­bon in it, mom didn't make it. No joke. I burn things all the time and one year I actu­al­ly blew up Christ­mas din­ner. I made chick­en enchi­ladas and after I took them out of the oven, they explod­ed! Enchi­ladas every­where, from ceil­ing to floor. I'll nev­er live that one down.
Q: The for­mat for this book is well-done. Bra­vo! Every time the read­er turns three or four pages, there's anoth­er seg­ment of the book. You've bro­ken it into chap­ters by spe­cif­ic jobs, but there are sev­er­al seg­ments in each chap­ter. What was your process for decid­ing on the for­mat?
A: Thanks! The book had to have twelve chap­ters, ten on the sub­ject and the resources and glos­sary chap­ters. With­in each chap­ter, there need­ed to be two inter­views, one from an adult and one from a young per­son. They also want­ed some­thing in each chap­ter that required read­er involve­ment like quizzes or activ­i­ties. Besides those three cri­te­ria, the rest was up to me.
The chap­ter top­ics came eas­i­ly since there is a clear dif­fer­en­ti­a­tion in respon­si­bil­i­ties in the kitchen. The inter­est­ing tid­bits came as I did the research. They just popped up. For exam­ple, I won­dered what was with those crazy chef hats! And, being a his­to­ry buff, I imme­di­ate­ly inves­ti­gat­ed and dis­cov­ered their ori­gin.
Q: Did you inter­view in per­son the many peo­ple includ­ed in this book, or was it a phone call or an e‑mail?
A: I used all three meth­ods. If the inter­vie­wee didn't want to write out their answers in an email, I con­duct­ed the inter­view in per­son or on the phone. Six or sev­en were done this way. For the rest, email was the pre­ferred method of com­mu­ni­ca­tion. I will admit that hav­ing my ques­tions answered in an email saved me a ton of time. I was glad so many were will­ing to do that. An in-per­son or on-the-phone inter­view, includ­ing tak­ing notes and writ­ing up their respons­es, takes many hours where emailed answers only took sim­ple edit­ing and quick back-and-forth emails for clar­i­fi­ca­tion.
Q: How did you find the peo­ple to inter­view?
A: I found most of the kids online. Only Dominick Cura was a lead from a friend. For the adults, I found them online and through sug­ges­tions from friends and fam­i­ly. I tried to choose indi­vid­u­als with inter­est­ing careers, ones that don't come up in casu­al con­ver­sa­tion. Who knew you could make a liv­ing pho­tograph­ing food?
The most fun was talk­ing to the White House and work­ing on an inter­view with the White House chef. Unfor­tu­nate­ly, the sched­ul­ing nev­er worked out because it was late Octo­ber and he was too busy with all the events lead­ing up to the elec­tion.
I guess tim­ing is every­thing. While work­ing on set­ting up that inter­view, I ran across an arti­cle about Roland Mes­nier. He had worked in the White House for over 25 years. When he agreed to the inter­view, I thought, "Things hap­pen for a rea­son. This inter­view is even bet­ter!" I think Roland's life shows my young read­ers that if you work hard, you can real­ize your dreams and build a great career.
Q: What was the one thing you learned while writ­ing this book that stands out in your mind?
A: That no one achieves suc­cess in life with­out a men­tor. Every per­son I inter­viewed had some­one — friend, par­ent, sib­ling — who encour­aged, prod­ded, or even out­right pushed them to suc­ceed. Not one per­son got to where they were by sit­ting back and wait­ing for some­one to mag­i­cal­ly rec­og­nize their tal­ent. It's a les­son to young peo­ple start­ing out — find a men­tor and work hard; and it's a les­son to those in the pro­fes­sion — be a guide and men­tor, it's reward­ing.
Q: How long did it take you to do the research for this book?
A: Oh, my! I was on a real­ly tight dead­line. I start­ed in late Sep­tem­ber and had to have the draft in by mid-Novem­ber. I think it was eight or nine weeks. I had a won­der­ful assis­tant for a cou­ple of weeks and that real­ly helped. We worked hard on get­ting the skele­ton of the book down, lin­ing up inter­view pos­si­bil­i­ties and com­ing up with activ­i­ties for each chap­ter. I spent so many hours at my com­put­er that for the last week, I had to sit in my reclin­er, lap­top on my lap, because my bum was so sore. I was promised more time for the next book!
Q: Once you had all of your infor­ma­tion togeth­er, what tools did you use to orga­nize it?
A: I used huge Post-It Notes® and hung them on the wall. Then I read a lot of culi­nary arts mate­r­i­al (online and in books) and wrote down all the careers I could find. Once I had a list, I divid­ed the careers into ten chap­ters. After that, I put up ten Post-It Notes® and start­ed writ­ing down ideas for what should be includ­ed in each chap­ter. Since I live in a log house, which does­n't have a lot of smooth walls, most of the chap­ter sheets were stuck to the win­dows and patio doors. Our house looked very strange for a few months.
Through­out the research and inter­view­ing process, I kept paper files filled with the infor­ma­tion I includ­ed in each chap­ter and notes about ideas for pos­si­ble inclu­sion. Those files were impor­tant because I need­ed to keep track and cite all my sources.
Then I start­ed to write. The place­ment of infor­ma­tion hap­pened organ­i­cal­ly. I put seg­ments where I thought it made the most sense. I guess I was right since the edi­tors kept my place­ments.
Q: Are you intrigued enough by anoth­er pro­fes­sion to write a sec­ond book in this series?
A: I've writ­ten a num­ber of non­fic­tion books and would love to work on anoth­er title in this series. I enjoy the chal­lenge and the thrill of hunt­ing for ideas. The edi­tors are clever and always come up with inter­est­ing titles, so I'm sure one of them will intrigue me. I'll keep you post­ed and hope­ful­ly you'll like my next one as much as you liked Chef.
This book is writ­ten for teens, but I believe a moti­vat­ed 9‑year-old would chew through the real-life sto­ries and back­ground dish that author J.M. Bedell writes so skill­ful­ly.
I loved this book and I know I'll go back and re-read parts of it. It's a Dip Book, you can dip in and out of the tasty parts. This goes on my hol­i­day gift-giv­ing list for chil­dren, teens, and adults who imag­ine that they could have their own cook­ing show one day!
Learn more about author J.M. Bedell on her web­site.