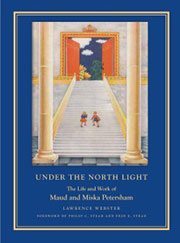 Under the North Light
The Life and Times of Maud and Miska Peter­sham
writ­ten by Lawrence Web­ster
fore­word by Philip C. Stead and Erin E. Stead
Wood­stock Arts, 2012
info@woodstockarts.com
ISBN 978−0−9679268−6−5
My hus­band, Steve, and I have worked togeth­er for the last 25 years. We have been mar­ried for 32 years, so it took us sev­en years to dis­cov­er that we would enjoy cre­at­ing and main­tain­ing a busi­ness, devel­op­ing it as our inter­ests and skills grew. Dur­ing those years, we have been inter­viewed for mag­a­zines and books that fea­ture the "odd phe­nom­e­non" of mar­ried cou­ples who work side-by-side. We work on our sep­a­rate projects, but we often ask each oth­er for cri­tique and assis­tance.
When author Lawrence Web­ster sent me a copy of Under the North Light, I was thrilled. I remem­ber the illus­tra­tions of Maud and Miska Peter­sham from my child­hood. Bright­ly col­ored, active scenes from child­hood and folk­tales, imag­i­na­tion-stir­ring. Win­ners of sev­er­al major book awards, the books they wrote and illus­trat­ed and craft­ed are stand­outs. This is the sto­ry of how they met, mar­ried, and worked togeth­er for 40 years.
As Philip C. Stead and Erin E. Stead share about them­selves in their intro­duc­tion to this book:
"We are each other's first and most impor­tant crit­ic. We react to each other's work in real time, a lux­u­ry most authors and illus­tra­tors do not have. We save one anoth­er from bad ideas when they come. As you read Under the North Light, you will find that Maud and Miska cred­it one anoth­er with the same kind of mutu­al cri­tique and encour­age­ment."
The Steads com­ment on the remark­able num­ber of mar­ried cou­ples in the world of children's lit­er­a­ture. (I will let you have the plea­sure of list­ing those cou­ples.)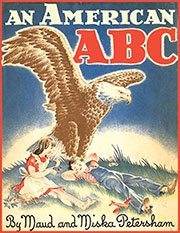 Maud and Miska Peter­sham were two peo­ple raised in dis­sim­i­lar back­grounds, yet they worked togeth­er har­mo­nious­ly. Maud Fuller grad­u­at­ed from Vas­sar in 1912 and head­ed to the New York School of Fine and Applied Art. Michael Peter­sham, born in Hun­gary to the name Petrezse­lyem Mihá­ly, arrived at Ellis Island the same year, with a degree from the Roy­al Nation­al School for Applied Art in Budapest. After meet­ing at a com­mer­cial art stu­dio, they began col­lab­o­rat­ing and worked with leg­endary edi­tors May Massee, Louise Sea­man Bech­tel, and Doris Patee. They were giv­en a Calde­cott Hon­or in 1942 for An Amer­i­can ABC (the year Make Way for Duck­lings took the Medal) and a Calde­cott Medal in 1946 for The Roost­er Crows: a Book of Amer­i­can Rhymes and Jin­gles.
The cou­ple worked in illus­tra­tion, ceram­ics, fine art, fur­ni­ture, and embroi­dery. Togeth­er Maud and Miska Peter­sham were a vital part of their com­mu­ni­ty as well as lov­ing par­ents and grand­par­ents. There are fine exam­ples of their work, pho­tos from fam­i­ly archives, all clear­ly cap­tioned, mak­ing them an inte­gral part of this biog­ra­phy.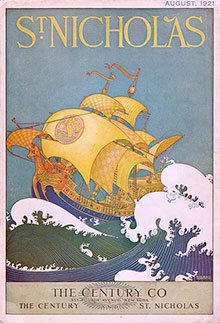 Lawrence Web­ster, a librar­i­an and non­prof­it con­sul­tant, knew the Peter­shams when she was a child in Wood­stock, New York, dur­ing the 1950s and 1960s. This quote is telling as her inspi­ra­tion for writ­ing the artists' sto­ry: "They lived with a kind of rad­i­cal integri­ty in the sense that the mul­ti­ple parts of their lives fit togeth­er into an inte­grat­ed whole, informed, always, by a sense of humor and a sense of per­spec­tive."
Ms. Web­ster shares with us Maud's and Miska's indi­vid­ual sto­ries, their lives togeth­er, and presents many illus­tra­tions of their work in this beau­ti­ful­ly designed, print­ed, and bound book. It's a trea­sure to hold and to read for any­one who has a love of children's lit­er­a­ture and book illus­tra­tion. For the peo­ple on your gift-giv­ing list who would enjoy this type of book, don't even hes­i­tate. It's the right gift.