My moth­er had the knack of giv­ing me a book every Christ­mas that kept me up all night … after I had opened it on Christ­mas Eve. I par­tic­u­lar­ly remem­ber the "oh-boy-it's-dark-out­side" year that I received The Lord of the Rings and accom­pa­nied the hob­bits into Woody End where they first meet the Nazgul, the Ring­wraiths. That was a Christ­mas Eve when I could­n't go to sleep. The books I received as gifts are a part of the mag­ic fab­ric of my mem­o­ry. I hope you'll entrance the read­ers in your life in the same way. Here are a few books I can rec­om­mend: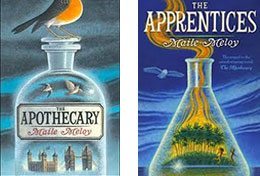 The Apothe­cary and The Appren­tices
Maile Meloy
with illus­tra­tions by Ian Schoen­herr
G.P. Put­nam's Sons
The Apothe­cary is set in 1952, where­in a mom and dad who are Hol­ly­wood screen­writ­ers are beset by the cli­mate of McCarthy­ism, so they move them­selves and their daugh­ter, Janie Scott, to Eng­land. There, Janie attends a pri­vate school with a dif­fer­ent set of rules and a stu­dent body that isn't exact­ly wel­com­ing. She's imme­di­ate­ly pulled into a cold-war spy sto­ry fea­tur­ing Ben­jamin Bur­rows, the son of an apothe­cary (we would call him a phar­ma­cist), Pip, a resource­ful teen with con-man ten­den­cies, Sarah Pen­ning­ton, a dis­dain­ful­ly prop­er British teen, and secre­tive adults from oth­er coun­tries who are either defend­ing or try­ing to steal The Phara­ma­copeia, a cen­turies-old book con­tain­ing the valu­able secrets of … chem­istry or mag­ic, you decide. It's a breath­less read­ing expe­ri­ence, filled with adven­ture and sur­pris­es, and it's an intel­li­gent book, respect­ing its read­ers. The sequel, The Appren­tices, con­tin­ues the saga in 1954. This time, Janie is at a school in New Hamp­shire. She does­n't know where Ben­jamin is, but he's in the jun­gles of Viet­nam try­ing to help peace take the upper hand. When Janie is kid­napped, Ben­jamin calls on Pip to come to her res­cue. It's a won­der­ful blend of char­ac­ters we can care about, a detailed plot that keeps the read­er turn­ing pages, good writ­ing, and illus­tra­tions that sup­port the sto­ries.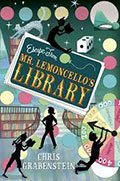 Escape from Mr. Lemon­cel­lo's Library
Chris Graben­stein
Ran­dom House
If your favorite read­ers likes games and puz­zles (either paper, board, or elec­tron­ic), they're going to enjoy this fast-paced, filled-with-thrills-and-sur­pris­es book. Lui­gi Lemon­cel­lo is the bene­fac­tor for an entire town but his most mag­nif­i­cent gift is a new library filled with books and — lit­er­al­ly — games and puz­zles and adven­tures. The town kids write essays to win a chance to be one of twelve kids to spend open­ing night at the library, engaged in puz­zles and games. Kyle Kee­ley, an under­achiev­ing stu­dent (one might call him the class clown), loves any type of game and soon finds him­self pit­ted against smart kids, wily kids, good kids, and seem­ing­ly nefar­i­ous kids to win the cov­et­ed prize and, more seri­ous­ly, find the way out of the library which they dis­cov­er is locked down tight. The games and puz­zles are set up so the read­er can play along. That's at least half the fun of read­ing this book. You'll laugh, you'll gasp (more than once), you'll cheer the game play­ers on. It's a delight­ful­ly engag­ing book that ref­er­ences and tempts the read­er to find out more about oth­er books in the library. So much fun that the read­er might not real­ize they aren't press­ing but­tons on a game con­troller.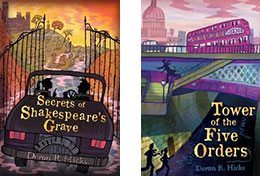 Secrets of Shake­speare's Grave and Tow­er of the Five Orders
Derin R. Hicks
illus­trat­ed by Mark Edward Gey­er
Houghton Mif­flin Har­court
When the first book appeared in 2012, I read it in one sit­ting, then fret­ted because I did­n't know when the next book would be avail­able. With delight, I found it await­ing me this fall, put it at the top of my read­ing pile, and eager­ly sat down to read it in one big gulp. The author is so good at plant­i­ng clues in this mys­tery that I will go back and re-read it to savor the rev­e­la­tions, espe­cial­ly now that I know where we're head­ing. Twelve-year-old Colophon Let­ter­ford, her broth­er Case, her true-blue cousin Julian, and her black-heart­ed cousin Treemont are part of a much larg­er fam­i­ly descend­ing from a pub­lish­er who began his work in the 1600s, not coin­ci­den­tal­ly around the time of Shake­speare's renowned work. It seems that some­one wise­ly fore­saw a time when cer­tain infor­ma­tion — and books — would be need­ed by the fam­i­ly and they clev­er­ly stashed clues in paint­ings, books, and oth­er sur­pris­ing places that Colophon, Case, and Julian detect … and Treemont swoops in to claim. The plot swoops, whoops, and swings from scene to scene, pro­vid­ing plen­ty of thrills for even the most reluc­tant read­er. Now I'm wor­ried because I don't know when the next install­ment is due.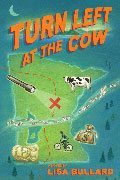 Turn Left at the Cow
Lisa Bullard
Houghton Mif­flin Har­court
I had to include a straight­for­ward, mod­ern-day mys­tery in this group, not only because it's one of my favorite gen­res, but because kids love them and there are too few mys­ter­ies that are as fun­ny — and pulse-quick­en­ing — as this one. From the minute 13-year-old Trav sets down in Min­neso­ta, hav­ing run away from his moth­er and step­fa­ther to his grand­moth­er's house on one of Min­neso­ta's 10,000 lakes, we're on a wild ride that takes us from the crisp open­ing line, "There were so many dead bod­ies stuffed into Gram's freez­er chest that it was kind of like wan­der­ing through a cry­on­ics lab," to the tru­ly breath-arrest­ing end­ing. As Cal­i­for­nia-raised Trav learns to nav­i­gate a small town that knows every­thing about his deceased father and the crime he com­mit­ted right before Trav was born, we learn more about Trav's new neigh­bors, his grand­moth­er, and an inter­est­ing cast of lake-town char­ac­ters. We want to find the miss­ing mon­ey as bad­ly as every­one else in town. It's laugh-out-loud fun­ny with a touch of romance and a lot of heart. I had to keep read­ing this one until I turned the last page … and then I want­ed more.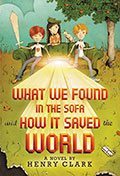 What We Found in the Sofa and How It Saved the World
Hen­ry Clark
illus­trat­ed by Jere­my Holmes
Lit­tle, Brown
This is kooky … and lov­ably so. You may have thought so from read­ing the title, hmmm? Three kids who wait every morn­ing at a bus stop are bemused to find a sofa there one morn­ing. They assume it's a curb­side castoff from the reclu­sive's man­sion in front of which they hang out on the way to school. For var­i­ous rea­sons, they all live in a dan­ger­ous, chem­i­cal­ly-destroyed part of town, and they are uneasy com­pan­ions. Riv­er, Freak, and Fiona dig around in the cush­ions of the sofa, dis­cov­er­ing a zuc­chi­ni-col­ored cray­on. This leads them to dis­cov­er that the plan­et's in dan­ger and they're the only ones who haven't been sucked into com­pla­cence by their cell phones. Will they be up to the task of sav­ing human­i­ty? Clever, filled with humor, awash with dan­ger, with a per­fect­ly paced plot, this is a great choice for most of the young read­ers on your list.
And, if you buy these for your­self, I won't tell.
(Note: My reviews of these books are based on: copies of The Apothe­cary and The Appren­tices that I pur­chased at an inde­pen­dent book­seller, an e‑book of Escape from Mr. Lemon­cel­lo's Library that I pur­chased, copies of The Secrets of Shake­speare's Grave and Tow­er of the Five Orders which was kind­ly sent to me by Houghton Mif­flin Har­court for review pur­pos­es, a copy of Turn Left at the Cow which was pro­vid­ed by Houghton Mif­flin Har­court for review, and a copy of What We Found in the Sofa and How It Saved the World pro­vid­ed by Lit­tle, Brown for review.)