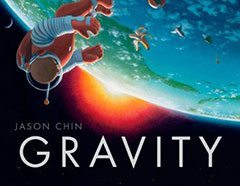 What is grav­i­ty?
I have a notion (after many years of school) that it keeps my feet touch­ing the ground. When I jump into the air, I am defy­ing grav­i­ty.
What is Grav­i­ty?
A book. Writ­ten and illus­trat­ed by Jason Chin, who pre­vi­ous­ly gift­ed us with Red­woods and Coral Island and Gala­pa­gos. He has a way of tak­ing a BIG con­cept and explain­ing it so that it sticks in my brain. Part of this has to do with his awe-inspir­ing paint­ings. They are at once intri­cate and uni­verse-encom­pass­ing. They are col­or-sat­u­rat­ed and gasp-induc­ing while mak­ing us smile at the antics of one young boy play­ing on the beach and one group of girls hav­ing a tea par­ty. The hard-to-con­ceive and the famil­iar help us com­pre­hend.

"Grav­i­ty makes objects fall to earth." With­out grav­i­ty, life as we know it would not exist. No earth, no moon, no astro­naut doll. Includ­ing the book itself in these illus­tra­tions pulls the read­er into the pages.
The back mat­ter con­tin­ues the book, explain­ing briefly, with appro­pri­ate­ly infor­ma­tive illus­tra­tions, how mass and dis­tance and oth­er fac­tors act upon grav­i­ty.
Well done, Mr. Chin.
An excel­lent addi­tion to your home library and pri­ma­ry grades where sci­ence has a grow­ing attrac­tion.
Grav­i­ty
Jason Chin
Neal Porter/Roaring Brook Press, 2014