It's still April and I'm still feel­ing crazy about base­ball.

The first Ron Koertge book I read was Shake­speare Bats Cleanup (pub­lished by Can­dlewick Press in 2006). He tried sev­er­al tricky writ­ing tasks in that book and I fin­ished it with a sense of admi­ra­tion for his skill as a writer.
Koertge hit a triple. First, he wrote a verse nov­el that ful­ly engaged my curios­i­ty. Sec­ond, he employed many dif­fer­ent forms of poet­ry in telling the sto­ry … and he believ­ably had his main char­ac­ter, Kevin Boland, pur­pose­ful­ly chal­lenge him­self to write a dif­fer­ent type of poem with every entry. Third, his char­ac­ters appeal to Every Read­er, throw­ing in Kev­in's yearn­ing to play base­ball even though he's recov­er­ing from mono, the over­ar­ch­ing theme of mourn­ing for his moth­er, and his notable inter­est in the females around him.
The theme of writ­ing, being a writer, and learn­ing to be a poet will be a strong draw for many read­ers. In fact, I'm sure there are mid­dle grade and high school teach­ers all over the coun­try who are using this as a sup­ple­men­tary poet­ry text.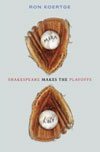 Now the sequel has found its way to my book­shelves, just in time for base­ball sea­son. I'm cer­tain this was on pur­pose. In Shake­speare Makes the Play­offs (Can­dlewick Press), Kevin is well, he's once again a star on his high school base­ball team, he finds his atten­tion wan­der­ing from his adorable girl­friend to a girl who shares his attrac­tion to poet­ry and writ­ing, and his lone­ly dad is dat­ing. This time Koertge hit it out of the park. Added to the qual­i­ties of the three bag­ger in his first book, Shake­speare Makes the Play­offs kept me up all night turn­ing the pages. In fact (one facet of the name of this jour­nal), I read the end­ing when I fin­ished chap­ter two. The ten­sion was already strong enough that I had to know what hap­pened … and I want­ed to observe the process.
Filled with humor, a strong plot and even stronger char­ac­ters, Shake­speare Makes the Play­offs attains a posi­tion on my "look for awards this year" book­shelf.