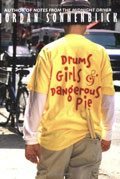 Some­times it's about being behind in my read­ing. I'm final­ly get­ting to the lev­el in my read­ing pile occu­pied by Jor­dan Son­nen­blick­'s Drums, Girls, & Dan­ger­ous Pie. In truth, I've moved the book down a few times, not feel­ing strong enough to read a book about leukemia. I'm sure you understand—there are cer­tain times when cry­ing over a book will derail a day. I'm sor­ry I wait­ed so long. This was a book I could­n't put down, lit­mus test num­ber one.
My favorite way to read a new­ly dis­cov­ered author is to start with their first book and then read them in chrono­log­i­cal order. That way I can watch the author's skills devel­op. Do their char­ac­ter­i­za­tions improve? Does their plot­ting get tighter? Do they begin to under­stand that there's noth­ing extra­ne­ous in a fine nov­el … even seem­ing­ly unre­lat­ed parts are pulled togeth­er nice­ly by the end?
Drums, Girls & Dan­ger­ous Pie is about Steven Alper and his fam­i­ly at a par­tic­u­lar­ly vul­ner­a­ble time: Jef­frey, the adorable, ram­bunc­tious, slight­ly-annoy­ing four-year-old broth­er is diag­nosed with lym­phat­ic leukemia. It sends the fam­i­ly's lives into a tail­spin. The book real­is­ti­cal­ly depicts despair, anger, wor­ry, dis­gust, help­less­ness … all the ways a fam­i­ly unit is chal­lenged by a pos­si­bly dis­as­trous change. And yet, this is a fun­ny book. The bal­ance of humor and pathos seems instinc­tive for this author. That's either an unde­tectable edit­ing hand or a mighty fine first nov­el. Girl­friends, grades, drum­ming, a human ser­vice project, anoth­er can­cer patient, respon­si­bil­i­ty, a dis­tant dad … there's so much wrapped into this sto­ry and it all fits.
Yes, I did start cry­ing about thir­ty pages before the end, but it felt cleans­ing, not the "I know this is meant to make me cry and I resent myself for suc­cumb­ing to the manip­u­la­tion of the author" type of tears. I was so caught up in the char­ac­ters and their lives, made pos­si­ble by Steven's sense of humor, that cry­ing felt good.
Mr. Son­nen­blick­'s next book was Notes from the Mid­night Dri­ver. We've had that on our shelves for over a year but I haven't felt com­pelled to pick it up. Need­less to say, yes­ter­day I walked around to our var­i­ous book­shelves and gath­ered a small pile of Jor­dan Son­nen­blick books. But I won't read them in order. Late in the day, I bought his new book, After Ever After, because it is the sequel to Drums. This book is about Jef­frey, now age thir­teen, and his young life as a can­cer sur­vivor. I could­n't resist let­ting the sto­ry con­tin­ue … so I may miss the obser­va­tion of the writer's devel­op­ment, but this time it's all about the sto­ry, one that grabbed me and, thank­ful­ly, I don't yet need to let go.