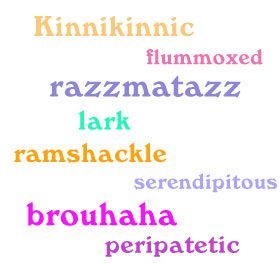 Isn't it about time for a hol­i­day? It's been three weeks since the Fourth of July and we won't cel­e­brate Labor Day for anoth­er five weeks.
Well, I here­by declare July 25th Joy-in-Words Day. Help cel­e­brate!
What's your favorite word to say out loud? What word gives you joy as it rolls around in your brain, through your mouth, and off your tongue?
A few CLN mem­bers share their favorites:
Frances Bohn
lala­palooza
Heather Bouw­man
dumb­found­ed
Julie Bowe
serendip­i­ty
tin­kle
super­calafrag­ilis­tic­ex­pi­ali­do­cious
Nan­cy Caf­foe
scru­ples
razzmatazz
judi­cious
gol­ly­whom­pered
Peg Ner­al Helmin­s­ki
Serendip­i­tous
Bar­bara O'Con­nor
brouha­ha
Tunie Mun­son-Ben­son
bam­boo­zled
jux­ta­pose
numi­nous
peri­patet­ic
pop­py­cock
Vic­ki Palmquist
amper­sand
McN­ert­ney
snook­er
Rob Reid
allu­vial
Cadott
flum­moxed
Kin­nikin­nic
Julie Reimer
clan­des­tine
scrump­tious
Kur­tis Scalet­ta
alba­tross
far­ci­cal
lugubri­ous
ono­matopoeia
spork
super­cil­ious
Val­paraiso
Susan Marie Swan­son
gar­net
gin­ger
lark
Kather­ine Tillot­son
fes­toon

Stephanie Wat­son
jim­myrigged
ram­shackle
slip­shod
How many of these words could you use in one sen­tence (Hem­ing­wayesque or not)?
Think of the plea­sure of say­ing a rap out loud with 15 or more of these words in the vers­es.
What are your own favorite say-out-loud words?
Hap­py Joy-in-Words Day!