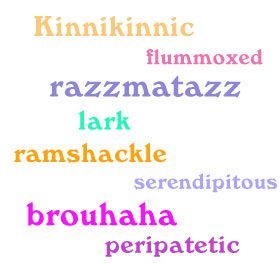 Isn't it about time for a hol­i­day? It's been three weeks since the Fourth of July and we won't cel­e­brate Labor Day for anoth­er five weeks.
Well, I here­by declare July 25th Joy-in-Words Day. Help celebrate!
What's your favorite word to say out loud? What word gives you joy as it rolls around in your brain, through your mouth, and off your tongue?
A few CLN mem­bers share their favorites:
Frances Bohn
lalapalooza
Heather Bouw­man
dumbfounded
Julie Bowe
serendipity
tinkle
supercalafragilisticexpialidocious
Nan­cy Caffoe
scruples
razzmatazz
judicious
gollywhompered
Peg Ner­al Helminski
Serendipitous
Bar­bara O'Connor
brouhaha
Tunie Mun­son-Ben­son
bamboozled
juxtapose
numinous
peripatetic
poppycock
Vic­ki Palmquist
ampersand
McNertney
snooker
Rob Reid
alluvial
Cadott
flummoxed
Kinnikinnic
Julie Reimer
clandestine
scrumptious
Kur­tis Scaletta
albatross
farcical
lugubrious
onomatopoeia
spork
supercilious
Valparaiso
Susan Marie Swanson
garnet
ginger
lark
Kather­ine Tillotson
festoon

Stephanie Wat­son
jimmyrigged
ramshackle
slipshod
How many of these words could you use in one sen­tence (Hem­ing­wayesque or not)?
Think of the plea­sure of say­ing a rap out loud with 15 or more of these words in the verses.
What are your own favorite say-out-loud words?
Hap­py Joy-in-Words Day!