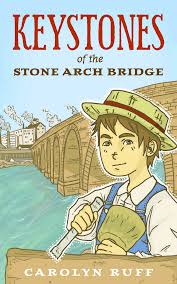 In down­town Min­neapo­lis, Min­neso­ta, span­ning the Mis­sis­sip­pi Riv­er, there is a "Stone Arch Bridge" that resem­bles a roman viaduct with its 23 arch­es. Built at a time when Min­neapo­lis was a pri­ma­ry grain-milling and wood-pro­duc­ing cen­ter for the Unit­ed States, Empire Builder James J. Hill want­ed the bridge built to help his rail­road reach the Pacif­ic Coast.
Pri­mar­i­ly a sto­ry that stitch­es togeth­er the inter­est­ing peo­ple and events in 1883 Min­neapo­lis, young Fritz Pers­son is at the cen­ter of the telling, spend­ing the sum­mer after fifth grade work­ing with the lime­stone-cut­ting crew as they race to fin­ish the bridge by Sep­tem­ber. A young Swedish immi­grant liv­ing on the Mis­sis­sip­pi Riv­er Flats, Fritz is work­ing so he and his father can bring his moth­er and two sis­ters to live with them in Amer­i­ca.
Woven into the sto­ry is the explo­sion at the Wash­burn "A" Mill, Min­neapo­lis' role in the Under­ground Rail­road, how Pierre Bot­tineau worked as a trad­er and landown­er with those swift­ly set­tling the twin towns, and the ways in which the Dako­ta, Ojib­we, and African Amer­i­cans shaped this part of the coun­try.
The author has been a docent at the Mill City Muse­um for a decade and knows her his­to­ry well. The sto­ry of her own fam­i­ly is woven into that of Fritz's fam­i­ly because he was her great uncle. Fritz's broth­er in real life and Ms. Ruff's grand­fa­ther, but not a part of the sto­ry, was the founder of the Pear­son Nut Com­pa­ny, beloved for its Nut Good­ie and Salt­ed Nut Roll can­dy bars.
It's a short chap­ter book writ­ten for ages 8 to 12, but adults will find it a sat­is­fac­to­ry intro­duc­tion to the his­to­ry of the area as well.
Key­stones of the Stone Arch Bridge
writ­ten by Car­olyn Ruff
illus­trat­ed by Christie Washam
Min­neso­ta His­tor­i­cal Soci­ety Press, 2014