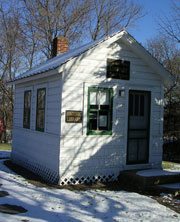 This is Nation­al Library Week. It's a great time to reflect on how much libraries mean to each and every one of us. Pub­lic libraries are the only place where every­one in the U.S. can access infor­ma­tion for free … with help from a knowl­edge­able librar­i­an. School libraries offer a safe and won­drous refuge for many of us. Think of the peo­ple who sought books at this for­mer pub­lic library in Hamel, Min­neso­ta (at right).
Of course, we're read­ers. We can't imag­ine life with­out libraries. And most of can imme­di­ate­ly pic­ture a hand­ful of librar­i­ans who made a dif­fer­ence in our lives. At school, at church, in our neigh­bor­hoods, or the "big library" down­town, we all have sto­ries about the small and large ways libraries have changed our lives. You can look up infor­ma­tion on Google or Bing and find a pletho­ra of links to wade your way through, but if you want to zero in on the best resources, ask a librar­i­an. They are relent­less in their pur­suit of the answers.
Every day brings more exam­ples of threats to libraries' exis­tence. Take a look at Cush­ing Acad­e­my in Mass­a­chu­setts which has got­ten rid of the 20,000 books in its library in favor of a resource cen­ter with 18 Sony read­ers. The school spent $500,000 to build this resource cen­ter, com­plete with a $12,000 cap­puc­ci­no machine. Cal­cu­late how many books $500,000 would buy or how many librar­i­ans' salaries that amount would pay.
Last night at Chap­ter & Verse, we heard from a school librar­i­an who is wor­ry­ing about her job, sad­ly watch­ing posi­tions like hers erode around the coun­try. Okla­homa's leg­is­la­tion HB 3029, which Okla­homa's House of Rep­re­sen­ta­tives are con­sid­er­ing today, effec­tive­ly "… sus­pends sev­er­al man­dates, includ­ing … library media expen­di­tures … [and] cer­ti­fi­ca­tion require­ments for library media spe­cial­ists" for two years. The Okla­homa Library Asso­ci­a­tion has been fight­ing the leg­is­la­tion, cog­nizant that this will harm emerg­ing read­ers and stu­dents in sig­nif­i­cant ways. As this librar­i­an point­ed out, research shows that schools with cer­ti­fied librar­i­ans have high­er read­ing scores. Mean­while, admin­is­tra­tors and school boards feel that cer­ti­fied librar­i­ans are non-essen­tial staff.
In San­ta Cruz, Cal­i­for­nia, offi­cials want to close the neigh­bor­hood libraries in order to save $1.6 mil­lion annu­al­ly. Is this a price we put on our chil­drens' literacy?
The Char­lotte Meck­len­burg Library in Vir­ginia is fac­ing sig­nif­i­cant bud­get cuts, ask­ing library sup­port­ers for help. There are exam­ples here for ways in which we can help our own libraries.
Library Advo­ca­cy Day is June 29, 2010. Rep­re­sen­ta­tives from all 50 states will hold a ral­ly in Upper Sen­ate Park on the grounds of the U.S. Capi­tol. Library usage has increased by stag­ger­ing per­cent­ages and yet fund­ing every­where has been cut. If you can't make it to D.C. on June 29th, find your own way to be an advo­cate. If you agree that libraries are essen­tial to your life, take an active role in sup­port­ing the library in your school, church, or neigh­bor­hood. Speak up and be counted!
How has a librar­i­an or library affect­ed your life? And what are you going to do about it?