From Wen­dell Minor comes this news (applause, please), "It′s offi­cial: the orig­i­nal art from Look to the Stars will be includ­ed in the per­ma­nent col­lec­tion of The New Britain Muse­um of Amer­i­can Art, and the orig­i­nal art from Abra­ham Lin­coln Comes Home will be includ­ed in the per­ma­nent col­lec­tion of The Nor­man Rock­well Muse­um. Watch the video about Wen­del­l's newest book with Jean Craig­head George, The Last Polar Bear, on the CLN home page.

New Book Point­ers: Hope you've had a chance to peruse these recent­ly pub­lished books, just out in the month of April: Lin­da Glaser wrote Garbage Helps Our Gar­den Grow: a com­post sto­ry (Mill­brook Press) and Emma's Poem: the voice of the Stat­ue of Lib­er­ty (Houghton Mif­flin), Melis­sa Stew­art's A Place for Frogs (Peachtree), Kathy-jo War­gin's Scare a Bear (Sleep­ing Bear Press), Joyce Sid­man's Ubiq­ui­tous (Houghton Mif­flin), Phyl­lis Root's Creak! Said the Bed (Can­dlewick Press), John Coy's Eyes on the Goal (Fei­wel & Friends), Lita Judge's Born to Be Giants: how baby dinosaurs grew to rule the world (Flash Point), Erik Brooks' Cat Diaries: Secret Writ­ings of the MEOW Soci­ety (writ­ten by Bet­sy Byars, Hen­ry Holt). These and oth­er intrigu­ing recent and forth­com­ing books are fea­tured on the CLN site.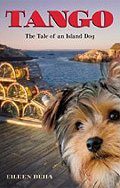 Look for Eileen Beha's pop­u­lar book Tan­go: the Tale of an Island Dog to be out in paper­back on May 25th. The per­fect book for a read-aloud on a fam­i­ly camp­ing trip or car trip, you'll want to tuck this into your suitcase.
I found Roger Sut­ton's edi­to­r­i­al in the most recent Horn Book to be thought-pro­vok­ing. "Wild Pitch­es" takes a look at recent young adult literature.
In that same issue of The Horn Book, I also loved edi­tor Eliz­a­beth Law's com­men­tary in "Hang on a Moment," anoth­er facet of "con­trolled vocab­u­lary."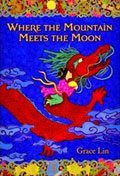 Grace Lin's Where the Moun­tain Meets the Moon was the Mass­a­chu­setts Book Award win­ner in the Chil­dren's / Young Adult cat­e­go­ry. The awards were announced on April 28th.
The Edgar Awards for best mys­ter­ies were announced last week. The young adult cat­e­go­ry found Real­i­ty Check by Peter Abra­hams to be the judges' choice. In the juve­nile mys­tery cat­e­go­ry, Closed for the Sea­son by Mary Down­ing Hahn was the top choice.
Rob Reid writes about Julie Bowe in the Eau Claire, Wis­con­sin, mag­a­zine Vol­ume One. Julie's newest book, released this month, is My Best Fren­e­my and it's cre­at­ing a buzz.