Hey, Joyce Sid­man, your new book, Ubiq­ui­tous, has done the Most Unusu­al … five starred reviews! In 2009, only 13 books received five starred reviews (if you're curi­ous, check out the See­ing Stars 2009 doc­u­ment, stored on Radar, the CLN mem­bers' home page). Book­list, The Horn Book, Kirkus Reviews, Pub­lish­ers Week­ly, and School Library Jour­nal all think so high­ly of this book, illus­trat­ed by Beck­ie Prange and pub­lished by Houghton Mif­flin Har­court, that they've giv­en Ubiq­ui­tous the cov­et­ed star.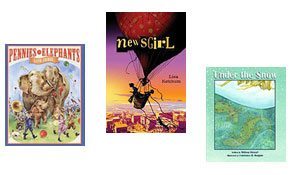 Over in Mass­a­chu­setts (up, under, over … depends on your locale), the 10th Annu­al Mass­a­chu­setts Book Award com­mit­tee has post­ed its short list for its three chil­dren's book cat­e­gories. For pic­ture books, how won­der­ful to see Lita Judge's true-sto­ry pic­ture book, Pen­nies for Ele­phants (Hype­r­i­on / Dis­ney), and Melis­sa Stew­art's nature pic­ture book, Under the Snow (Peachtree). In the mid­dle grade cat­e­go­ry, we find News­girl by Liza Ketchum (Viking). If you haven't tak­en a look at these books yet, now's the time. The awards will be announced at the cer­e­mo­ny on April 28th at the Resort and Con­fer­ence Cen­ter at Hyan­nis, MA.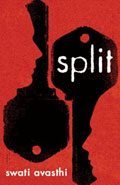 It was fun to see Swati Avasthi's pro­file in the April 2010 issue of Twin Cities Metro mag­a­zine. With her first YA nov­el, Split, get­ting deserved atten­tion, Swati claims that she first decid­ed she want­ed to be a writer when she read about Lau­ra's ambi­tions in Lit­tle House on the Prairie. There were oth­er career paths cho­sen along her way, but read­ers will be glad that she decid­ed to fol­low her dream. Read Split and then join an edi­tion of Chap­ter & Verse on July 15th to dis­cuss the book.

Pic­ture book poet Lau­ra Pur­die Salas was pro­filed in the March 2010 (!) issue of Twin Cities Metro mag­a­zine. (How often does a slick glossy fea­ture authors of youth lit­er­a­ture? Kudos, TC Metro!) Her book, Stam­pede: Poems to Cel­e­brate the Wild Side of School, has been nom­i­nat­ed for a Min­neso­ta Book Award.
Speak­ing of the Min­neso­ta Book Awards, the gala cer­e­mo­ny takes place this Sat­ur­day, April 17th, from 6:30 pm—the Reception—with the awards being hand­ed out at 8:00 pm. In addi­tion to Salas' book, CLN mem­bers are dom­i­nat­ing the two young peo­ple's lit­er­a­ture cat­e­gories. In the Chil­dren's Lit­er­a­ture cat­e­go­ry we find Mar­i­on Dane Bauer for The Longest Night (Ted Lewin, illus­tra­tor; Hol­i­day House), Joyce Sid­man for Red Sings from Tree­tops (Pamela Zagaren­s­ki, illus­tra­tor; Houghton Mif­flin Har­court), and Ali­son McGhee for Songs of Mid­dle C (Scott Menchin, illus­tra­tor; Can­dlewick Press). In the Young Peo­ple's Lit­er­a­ture cat­e­go­ry, the final­ists are Cather­ine Thimmesh for Lucy Long Ago (Houghton Mif­flin Har­court); Kate DiCamil­lo for The Magi­cian's Ele­phant (Can­dlewick Press), and first-time author Kirstin Cronn-Mills for The Sky Always Hears Me and the Hills Don't Mind (Flux/Llewellyn).

Wish­ing you could see your news here? I read the news and scope out tid­bits here and there but every­where I can­not be—send me your news (links appre­ci­at­ed) and I'll fash­ion a way to com­mu­ni­cate it to the rest of the CLN mem­ber­ship, reach­ing a dif­fer­ent group than your Face­book friends and Twit­ter Team.
We're still mak­ing revi­sions to the appear­ance and func­tion of this online update … please bear with us. You'll find more blogs under the CLN ban­ner with­in the next few weeks. We'll keep you posted.