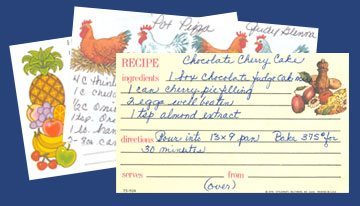 As ear­ly as I can remem­ber, my moth­er clipped recipes from mag­a­zines and news­pa­pers, find­ing ever-more-elab­o­rate meth­ods of fil­ing them. Recipe box­es, giant clips, and plas­tic bags are stuffed to the gills with recipes in her house. I've had fun in recent months dig­ging through those trea­sures. Food styles change! I feel like a His­to­ry Detec­tive delv­ing back through the years.
Some­how, watch­ing her do that ignit­ed the same spark in me. I've been a recipe clip­per since I was in 7th grade Home Eco­nom­ics. I still have the recipes for s'mores and the hot dog hot dish that were giv­en to us by Min­negas­co. (That's a bit of his­to­ry in itself.) Steve might say that my recipe-clip­ping is an exces­sive activ­i­ty because I will nev­er live long enough to make all these dish­es, but I take great com­fort in know­ing I will nev­er run out of ideas.
Imag­ine my sur­prise when we cleaned out my grand­moth­er's house to find book after book of clipped recipes past­ed scrap­book-style into my grand­fa­ther's left­over auto garage receipt books. There, among the columns for prof­it and loss are recipes for "Peach Wine," "Sauer­kraut," and "Orange Kiss Me Cake." Many have nota­tions in the hand­writ­ing I remem­ber so well. My grand­moth­er nev­er wrote a book and I'm sure peo­ple threw away the many let­ters she wrote, but she lives on in those recipe books. (When I read Loret­ta Ellsworth's book, In Search of Mock­ing­bird, I was remind­ed of nota­tions in the mar­gins … the only thing her char­ac­ter Erin had left of a moth­er she nev­er knew.)
My grand­moth­er would have said "mon­key see, mon­key do." I nev­er saw her clip a recipe but my moth­er did … and I saw my moth­er do the same. Noth­ing was ever said. My moth­er nev­er made me sit down and clip out a recipe; she nev­er even sug­gest­ed it.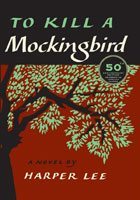 It does­n't take much to imag­ine the same thing hap­pen­ing for read­ing. "Mon­key see, mon­key do." Although my grand­par­ents did­n't read books (except the Bible), my moth­er had shelves and shelves of books from my ear­li­est mem­o­ries. She was always read­ing fic­tion, non­fic­tion, mag­a­zines. She read To Kill a Mock­ing­bird, I picked it up a cou­ple of months lat­er … curi­ous. She nev­er made me read a book. To this day, I read the same vari­ety of books she did.
If you're read­ing in places where it's noticed, oth­er peo­ple, espe­cial­ly your chil­dren, nephews and nieces, and grand­chil­dren, will see you. It's an uncon­scious reac­tion … if you're read­ing, there must be some­thing good about it. If you have books around, they must have books around. This will be hard­er to do with an e‑book read­er — few peo­ple will know what you like to read by perus­ing your shelves, but I guess you can always share your list of books with them.
Keep read­ing. Help some­body else engage in a lit­tle "mon­key see, mon­key do."