A lit­tle bit of old, a lit­tle bit of new … these are series so that the read­ing expe­ri­ence can go on and on. Today's selec­tions are pri­mar­i­ly fan­ta­sy with a lit­tle bit of sci­ence fic­tion around the edges.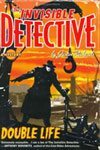 The Invis­i­ble Detec­tive series by Justin Richards. They're very pop­u­lar in Eng­land. The Invis­i­ble Detec­tive can solve any crime, his face has nev­er been seen, and he's real­ly four bright and curi­ous kids who call them­selves the Can­non­iers. They're solv­ing crimes in 1930s Lon­don. In a par­al­lel sto­ry­line, Arthur Drake lives in today's Lon­don. He buys a jour­nal in an antique shop, only to find that the entries are in his own hand­writ­ing! The jour­nal turns out to be the case­book of the Invis­i­ble Detec­tive. Part mys­tery, part sci­ence fic­tion, these are ter­rif­ic for read­ers aged 10 and old­er. The first title in the series is Dou­ble Life (G.P. Put­nam's Sons), fol­lowed by Shad­ow Beast, then Ghost Sol­diers, and more. A tid­bit of knowl­edge: Justin Richards is a cre­ative con­sul­tant on BBC's Doc­tor Who series.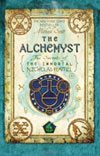 For old­er read­ers, prob­a­bly 12 and up, Michael Scot­t's series, The Secrets of the Immor­tal Nicholas Flamel, which begins with The Alche­myst, The Magi­cian, and The Sor­cer­ess, all of which are avail­able in paper­back or at your local library. Broth­er and sis­ter Sophie and Josh New­man have sum­mer jobs in San Fran­cis­co. Sophie works at a cof­fee shop and Josh works for Nick and Per­ry Flem­ing at The Small Book Shop. It does­n't take long for those who want The Dark to over­take the world to find Sophie, Josh, Nick, and Per­ry, and the breath­less chase in on. John Dee is the vil­lain of the piece, an immor­tal, and some­one who is able to tempt Josh, cre­at­ing a fine ten­sion through­out the books. A tid­bit of knowl­edge: Nico­las Flamel and his wife, Perenelle, were both alchemists in real­i­ty. One can vis­it their home on the Rue de Mont­moren­cy in Paris. They also fig­ure into the Har­ry Pot­ter books because they are said to have cre­at­ed the Philoso­pher's Stone. John Dee also lived. He chose the date for Queen Eliz­a­beth I's coro­na­tion and was one of her spies, sign­ing his mes­sages, "007." True.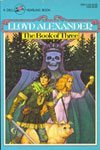 Pub­lished in the 1970s, don't for­get Lloyd Alexan­der's Chron­i­cles of Pry­dain. Based on Welsh mythol­o­gy and the Mabino­gion, the five books in the series begin with a won­der­ful sense of humor that is main­tained through­out, but the stakes are increas­ing­ly high­er as Taran, the Assis­tant Pig-Keep­er, Fflewd­dur, the bard, Eilon­wy, the strong-mind­ed trav­el­ing com­pan­ion, and Rhun, the some­what bum­bling prince. Just right to begin read­ing around age 8 or 9, the books intrigue all ages. Forces of great evil and greater good fill these pages. They're time­less writ­ing from a mas­ter. Start with The Book of Three, then The Black Caul­dron, The Cas­tle of Llyr, Taran Wan­der­er, and The High King, which deserved­ly won the New­bery Award.
For old­er read­ers, ages 15 and up, who wish to know more about The Mabino­gion, I rec­om­mend Evan­ge­line Wal­ton's books, Prince of Annwn, The Chil­dren of Llyr, The Song of Rhi­an­non and The Island of the Mighty. They've been gath­ered into one vol­ume called The Mabino­gion Tetral­o­gy. Pub­lish­ers Week­ly said, "this series ranks with the best of 20th-cen­tu­ry works of fantasy."

Before The Hunger Games, Suzanne Collins wrote a nifty fan­ta­sy series which began with Gre­go­ry the Over­lan­der. When Gre­gor's father dis­ap­pears, the fam­i­ly falls on very hard times. They don't know where he's gone or why. One day, eleven-year-old Gre­gor sees his baby sis­ter dis­ap­pear­ing into a heat­ing grate in their apart­ment build­ing's laun­dry room, so he fol­lows her. Thus begins the great adven­ture in the Under­land, where humans live along­side giant talk­ing spi­ders, rats, cock­roach­es, and bats. Before you say "Ewwwww" and decide to pass these by, I liked this series a great deal and I am not a fan of creepy-crawly things. Suzanne Collins also writes for chil­dren's television—she writes a nov­el cinematically. A great choice for reluc­tant readers.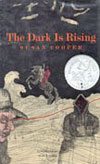 I can't write a full page of rec­om­men­da­tions for fan­ta­sy series with­out includ­ing The Dark is Ris­ing by Susan Coop­er, a mas­ter of the genre. The series begins with Over Sea, Under Stone, then pro­gress­es to the mag­nif­i­cent The Dark is Ris­ing (New­bery Hon­or), fol­lowed by Green­witch, The Grey King, and Sil­ver on the Tree. Filled with char­ac­ters from Celtic mythol­o­gy, and ideas of good and evil that have evolved from every cul­ture, this is a tale of the bat­tle of The Light and The Dark, with chil­dren on the front lines. Simon, Jane, and Bar­ney fig­ure strong­ly in books one and three. Will Stan­ton is the cen­tral char­ac­ter in books two and four. All four of the chil­dren, togeth­er with Bran the Raven Boy, join forces in book five for a mag­nif­i­cent con­clu­sion to the tale. (Please don't see the movie which is sup­pos­ed­ly based on The Dark is Ris­ing. It has noth­ing what­so­ev­er to do with the book.) This series is pow­er­ful and mes­mer­iz­ing. I high­ly rec­om­mend it as a sum­mer­time read-aloud for the whole family.