Future Self to Vic­ki: You're going to read a nov­el about play­ing bridge … and you're going to enjoy it.
Vic­ki: Not going to hap­pen. My moth­er tried, on sev­er­al occa­sions, to raise some enthu­si­asm for bridge in my body and soul. I love to play cards, board games, guess­ing games, triv­ia games … not bridge. There are so many things to remem­ber and secret lan­guages to mem­o­rize and end­less post-mortem dis­cus­sions and fero­cious argu­ments over cards that could have been bet­ter played.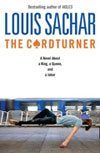 Future Self to Vic­ki: Just you wait. Louis Sachar is going to write a book called The Card­turn­er and you're going to love it.
When a smart book­seller placed this book in my hands, I did­n't want to hurt her feel­ings. "You're going to love this," she said. "You'll be sur­prised how inter­est­ing bridge can be."
It turns out Louis Sachar loves bridge. I don't know how he could have writ­ten this nov­el if he did­n't. There's lots of infor­ma­tion about bridge in here, includ­ing dia­grams of East, and West, and North, and the Dum­my hand. There's even a draw­ing of a whale which, he tells us at the begin­ning of Chap­ter 12, rep­re­sents the whale in Moby Dick. The main char­ac­ter, Alton Richards, writes: "It seems like a pret­ty good adven­ture sto­ry about a mon­ster killer whale, but just when I start­ed to get into it, the author, Her­man Melville, stopped the sto­ry and went on page after page describ­ing every tiny detail of a whal­ing ship. I zoned out. I nev­er fin­ished the book and had to bluff my way through the test."
Now, I have my own his­to­ry with Moby Dick (of a some­what sim­i­lar nature), so this caught my atten­tion. Wher­ev­er the whale appears in The Card­turn­er, there's a detailed expla­na­tion of what's hap­pen­ing in the bridge game. Rec­og­niz­ing that not every­one will want to read the details, the author pro­vides a short sum­ma­ry of the details in a box at the end … and con­tin­ues on with the sto­ry. I like this. In fact, it's one of the rea­sons I like the book so much. Grat­i­tude. The read­er can choose to read these dis­cus­sions (and Sachar does a good job of writ­ing them in an inter­est­ing way) or get on with the story.
And the sto­ry is fas­ci­nat­ing, com­plete with enough char­ac­ters and sus­pense to keep the read­er turn­ing the pages. Will high school stu­dent Alton Richards sur­vive a sum­mer with no job, no girl­friend (she dumped him for his best friend), and a moth­er who is obsessed with inher­it­ing mon­ey from their rich uncle? It just so hap­pens this rich uncle is blind and he's a mas­ter bridge play­er. Uncle Lester Trapp has fig­ured out a way that he can con­tin­ue to com­pete in bridge tour­na­ments. He needs a card­turn­er, some­one who won't be inter­est­ed in the game, some­one who will fol­low direc­tions with­out ques­tion. He needs Alton Richards.
So many things about this book are sub­tle, entwin­ing the read­er in the fan­tas­ti­cal world of bridge com­pe­ti­tion, that it's easy to over­look the mas­ter­ful char­ac­ter­i­za­tions, the humor, the bizarre cast, and the under­ly­ing human­i­ty of the tale while you're try­ing to turn the pages more quick­ly to find out what hap­pens next. All of this, includ­ing the Extra Char­ac­ter, the strate­gies of bridge, weave a spell over the read­er until you're cer­tain you could sit down at a table and play as well as Trapp and Gloria.
Future Self to Vic­ki: You're still not going to become a mas­ter bridge player.
Vic­ki: Prob­a­bly not, but thanks to Louis Sachar, I have a bet­ter under­stand­ing of why peo­ple would devote their lives to the pur­suit of bridge. More impor­tant­ly, I've added Alton Richards and Lester Trapp to that pan­theon of char­ac­ters I'd invite over for din­ner and con­ver­sa­tion … and maybe a game of bridge.