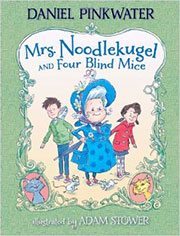 The woman who cuts my hair, Amy, had a par­tic­u­lar­ly hard sum­mer the year her boys had just learned to read. Their school asked that she keep them read­ing over the sum­mer, but there were only so many Mag­ic Tree­house books she want­ed them to read. What oth­er books would be suit­able? The min­utes flew by in the hair­cut­ting chair as I made sug­ges­tions and she lis­tened, appar­ent­ly hav­ing a prodi­gious mem­o­ry. I didn't ask. It would have been rude.
I wish I had been able to rec­om­mend Daniel Pinkwater's Mrs. Noodlekugel and Four Blind Mice. I should men­tion that it is also Adam Stower's Mrs. Noodlekugel and Four Blind Mice. Mr. Pinkwa­ter wrote it and Mr. Stow­er illus­trat­ed it and togeth­er — but sep­a­rate­ly, as we all know now — they cre­at­ed a mem­o­rable book. It wasn't writ­ten when Amy and I talked about books for her boys or it would have been at the top of my list.
The book is absurd. That is a high com­pli­ment. It takes tal­ent to write — and draw — absur­di­ty. I am a big fan of James Mar­shall's books about The Stu­pids. I will for­ev­er remem­ber "You sure can pol­ka, Dot." (Tak­en out of con­text, that may not be fun­ny.)
In much the same way, there is a crafty amount of con­text in Mrs. Noodlekugel and Four Blind Mice from page one. We learn where Mrs. Noodlekugel lives in a small house among large apart­ment build­ings in New York City. We learn that she has a cat named Mr. Fuz­zface. Next-door-neigh­bor chil­dren Max­ine and Nick drop by often, espe­cial­ly when they need babysit­ting. As it turns out, the four mice who live with Mrs. Noodlekugel can­not see well. They are not, indeed, blind … but they need glass­es. The small troupe of char­ac­ters set off on a city bus to trav­el to an oculist. They vis­it a restau­rant after­wards where Mrs. Noodlekugel orders cheese­cake for the troupe and the new­ly-sharp-eyed mice (with glass­es) get sil­ly on the sug­ar. A chase ensues.
With­in these pages you'll find high-paced action, hilar­i­ty, pathos, and a nifty end­ing that ties up all of the con­text Mr. Pinkwa­ter began on page one. You'll want to study Mr. Stower's draw­ings because they will cause you to laugh out loud, espe­cial­ly the wait­er who is a mon­key and can­not talk. He holds up pre-print­ed signs instead.
Pre­dic­tion: You will go to your com­put­er to look up Nes­sel­rode pie. It is an extinct food. I will help: look here and here. When you make some, invite me over. We can read this book out loud togeth­er. It is per­fect for sum­mer read­ing. It is even bet­ter at mak­ing read­ers laugh.
Mrs. Noodlekugel and Four Blind Mice
writ­ten by Daniel Pinkwa­ter
illus­trat­ed by Adam Stow­er
Can­dlewick Press, 2013