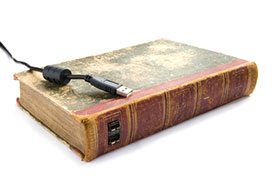 Pub­lish­ers Week­ly report­ed today that Neil Gaiman addressed the fifth Lon­don Book Fair Dig­i­tal Minds Con­fer­ence by say­ing, "Peo­ple ask me what my pre­dic­tions are for pub­lish­ing and how dig­i­tal is chang­ing things and I tell them my only real pre­dic­tion is that is it's all chang­ing," Gaiman said. "Ama­zon, Google and all of those things prob­a­bly aren't the ene­my. The ene­my right now is sim­ply refus­ing to under­stand that the world is chang­ing."
This express­es my own feel­ings so suc­cinct­ly that I could­n't resist writ­ing a bit more.
Yes­ter­day, at a cof­fee shop (change), a young man sat with his large bag (change) stuffed with a mobile key­board (change) and a pair of ten­nis shoes (old­er tech­nol­o­gy), sip­ping on a lat­té (change), and read­ing a paper­back (old­er tech­nol­o­gy, around the 1940s). It's one of those images that rep­re­sent a spe­cif­ic moment in our evo­lu­tion.
As a long-time stu­dent of chil­dren's books and pub­lish­ing, it is fas­ci­nat­ing to be in the midst of change. I pic­ture folks sit­ting around the din­ner table grum­bling about "that new machine they're try­ing out at the print shop" dur­ing what would lat­er be called the Indus­tri­al Rev­o­lu­tion. Those folks weren't aware of the big pic­ture. They did­n't know how rad­i­cal­ly their lives were being altered by advanc­ing indus­tri­al­iza­tion. We've had to live with that for more than one hun­dred years and we're still reel­ing from the effects as we lose spe­cial­ized crafts­peo­ple and knowl­edge­able store clerks and high­ly skilled teach­ers because of what a machine can do.
Wher­ev­er we go, e‑books are a hot top­ic. Today, in a time that will sure­ly be described with a name (selec­tion to come), we have more than enough ways to com­mu­ni­cate, often instant­ly. Peo­ple can stir each oth­er up faster than the night­ly news ever did. A lit­tle bit of change occurs, some­body makes a big­ger prof­it than some­one else, some­one tries to sew up the rights in a monop­o­liz­ing way … and it trends on Twit­ter. e‑books are still being dis­cussed as though there's a choice.
"Do you have a read­er?"
"Do you real­ly read books on that thing? I can't stand it."
"I find it so hard to con­cen­trate when I read an e‑book."
"Kids will lose out on so much if they don't read bound books."
Yes. And no. Every­one has indi­vid­ual needs, respons­es, and pref­er­ences. We'll all sort this out, but it takes time. Tech­nol­o­gy changes dai­ly. Just as we get used to look­ing at a chopped-up, un-num­bered, pic­ture-on-a-page-by-itself, dis­com­bob­u­lat­ing e‑book, some­one adapts the form and pro­duces a beau­ti­ful vol­ume that's a plea­sure to read.
Amazon.com and Google and Face­book and Apple and Microsoft have dri­ven much of the progress because they are embrac­ing change. Sci­en­tif­ic Amer­i­can report­ed that read­ing on a screen is def­i­nite­ly hav­ing an effect on our brains.
I firm­ly believe we all must accept that change is hap­pen­ing all around us. We'll be hap­pi­er, feel more sat­is­fied. Carve out your close-held com­mu­ni­ties, whether they are actu­al or dig­i­tal. Enjoy exchang­ing dig­i­tal images of places you may nev­er see in per­son. Vis­it the Nation­al Parks and record your mem­o­ry-fresh­en­ers on paper, on your tablet, with your cell phone cam­era, or by paint­ing. Read e‑books you might not have access to in a print­ed-and-bound book. Rev­el in your col­lec­tion of first edi­tions. Remem­ber all the good things and be a part of bring­ing them for­ward as change occurs. Be an inno­va­tor. Embrace the pos­si­bil­i­ties that appeal to you. Stand up for the change you would like to see hap­pen.
Dis­cus­sion is worth­while, com­par­i­son is instruc­tive, but com­plain­ing and try­ing to stop change are time ill spent. e‑Books are here to stay. In ten years they will more than like­ly resem­ble their cur­rent form as much as a Volk­swa­gen bus looks like a horse. Have fun explor­ing, exper­i­ment­ing, and expe­dit­ing the changes you find serve you best. Tell every­one about the excel­lent e‑books you read and let the rest float away as light­weight attempts at a new tech­nol­o­gy. Enjoy print books in ways you nev­er have before, know­ing they are a unique form we've enjoyed for hun­dreds of years. There's room in our hearts and minds for all of it.