Mem­bers have writ­ten to tell us about the books that are cur­rent­ly on their bed­side tables. I'm in the midst of five books, so it's good to gath­er more titles. Who knows when I'll run out of some­thing to read? (Is that the ground lev­el ques­tion of the booka­holic?)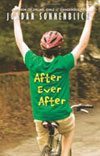 From Lau­ra Pur­die Salas:
After Ever After, by Jor­dan Son­nen­blick, and loved it as much or maybe even more than Drums, Girls, and Dan­ger­ous Pie. They're both heart-expand­ing books!
Just start­ing to read an ARC of The Sev­enth Lev­el, Jody Feld­man's newest. Can't wait. I real­ly enjoyed her Gol­ly­whop­per Games.
From Marya Ash­worth, aspir­ing writer: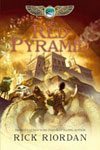 I'm cur­rent­ly read­ing Red Pyra­mid — the Kane Chron­i­cles, by Rick Rior­dan, and I'm lov­ing it! It's filled with ancient Egyp­tol­ogy, full of action and won­der­ful new char­ac­ters.
[Ed: After years of guess­ing, Mr. Rior­dan's last name rhymes with "fire-den." Thanks to Nan­cy Caf­foe, book­seller extra­or­di­naire, for this tip.]
Both Liza Ketchum and Kit­ty Bak­er are read­ing City of Can­ni­bals by Ric­ki Thomp­son. Liza writes: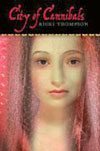 I stayed up much too late last night read­ing Ric­ki Thomp­son's com­pelling City of Can­ni­bals. I've heard Ric­ki read from this nov­el in the past, but hold­ing it in my hands, and becom­ing immersed in this world that is so unknown to me—even though I've stud­ied British history—is an amaz­ing expe­ri­ence. I'm halfway through and can't wait to find out what will hap­pen to Dell and her puppet—and the Brown Boy. Hooray, Ric­ki!
Kit­ty Bak­er, a fre­quent con­trib­u­tor to our mag­a­zine, is read­ing City of Can­ni­bals as well:
A very unique sto­ry set in an his­tor­i­cal time when Hen­ry VIII was set­ting up his own church and hav­ing Anne Boleyn's head con­ve­nient­ly removed, the shock­waves from which were rever­ber­at­ing through Eng­land and its Roman Catholic cler­gy.
How about you? What's on your bed­side table? Mem­bers, please send us an e‑mail and we'll fea­ture your cur­rent chil­dren's or YA read­ing mate­r­i­al in an upcom­ing jour­nal post­ing.