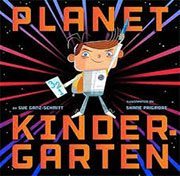 Books about get­ting ready for kinder­garten and the first day in that Strange New Land are plen­ti­ful, but I can't recall one that has drawn me into the expe­ri­ence as ful­ly as Plan­et Kinder­garten does. Every aspect of this book, from word choice to sto­ry to the detailed and clever draw­ings, puts this book at the top of my sug­ges­tion list for chil­dren (and par­ents) enter­ing that phase of life.
Sci­ence fic­tion afi­ciona­dos will love Plan­et Kinder­garten because so much feels famil­iar there. From mom's Vul­can salute to the alien stu­dents in the class­room (all human, but clev­er­ly drawn with atten­tion to minute details) to the food in the lunch­room to the feel­ings of home­sick­ness that are sure­ly shared by astro­nauts on the Space Sta­tion, this is a book with a very spe­cif­ic set­ting that strikes every chord just right.
"I try to get used to the new atmos­phere, but it's not like home. For one thing, grav­i­ty works dif­fer­ent­ly here. We have to try hard to stay in our seats. And our hands go up a lot."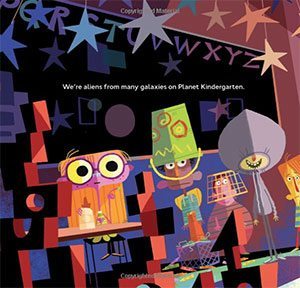 Every word keeps us in the Plan­et Kinder­garten space and time.
The author and illus­tra­tor hon­or new expe­ri­ences with the right amount of won­der and fear, final­ly bring­ing the read­ers back to a reas­sur­ing, famil­iar home.
The mix­ture of space-like black and lumi­nous bright col­ors rein­force the notion of an oth­er-world­ly atmos­phere. Each two-page spread is dif­fer­ent from the oth­ers, show­cas­ing the illustrator's cre­ativ­i­ty.
There's a lot here to keep kids (and adults) inter­est­ed as dis­cus­sions ensue about get­ting used to preschool and kinder­garten.
Plan­et Kinder­garten
writ­ten by Sue Ganz-Schmitt
illus­trat­ed by Shane Prig­more
Chron­i­cle Books, 2014