No, not the books by Noël Streat­field, but slice-of-life books that I think of as "walk­ing in some­one else's shoes" books. They're writ­ten in a con­vinc­ing, ready to assume the loafers or ten­nis shoes or flip-flops man­ner that allows me to become the main char­ac­ter from the front cov­er to the back cov­er … and savor my new under­stand­ing of, or my empa­thy for, some­one else's life. These are not usu­al­ly his­tor­i­cal books (it is eas­i­er to wear the shoes of a char­ac­ter whose sto­ry takes place dur­ing my life­time), fan­tas­ti­cal, mys­ter­ies, sci­ence fic­tion, comedic, or I'm-mak­ing-a-point books. Instead, I can try on the thoughts, expe­ri­ences, and words of anoth­er per­son whose life could have been mine if I had been born to oth­er par­ents. The titles I'm shar­ing today also qual­i­fy as per­fect lying-on-the-blan­ket-under-the-tree sum­mer reading.

In Kathryn Fitz­mau­rice's book, The Year the Swal­lows Came Ear­ly (Harper­Collins), Groovy Robin­son begins her sto­ry by say­ing, "We lived in a per­fect stuc­co house, just off the spark­ly Pacif­ic, with a lime tree in the back­yard and pink and yel­low ros­es gone wild around a pick­et fence. But that was­n't enough to keep my dad­dy from going to jail the year I turned eleven." Groovy loves to cook. She keeps note­books filled with recipes and menus. In fact, she has the­o­ries about match­ing foods to emo­tions, an intrigu­ing notion in itself. Obser­vant and thought­ful, Groovy helps out in a restau­rant owned by her best friend Frankie's step­broth­er, Luis. Of all the char­ac­ters in this book, Luis is on my din­ner invi­ta­tion list—what a gem of a guy he is. Frankie's moth­er left him, say­ing she was going away for a few weeks to fish, which turned into two years, which has turned Frankie's heart to stone. The grownups in this book don't share their rea­sons with the chil­dren, not right away, which is one of the qual­i­fiers for a "shoes" book. That's real life. The book is set in San Juan Capis­tra­no, so the swal­lows return­ing is an impor­tant ele­ment, woven deft­ly into the sto­ry of peo­ple who have gone away and may or may not return. Life is uncer­tain­ty, but it is also depend­abil­i­ty. Kathryn's debut nov­el is well-paced, with a mem­o­rable cast of char­ac­ters, and a sto­ry that will leave you reluc­tant to take off this par­tic­u­lar pair of shoes.

Pop­eye acquired his nick­name when he was three years old. There was a boyfriend, a girl­friend, and a Red Ryder BB gun involved. "Pop­eye had been Pop­eye ever since." His grand­moth­er, Vel­ma, takes care of him and this is a good thing. "Pop­eye need­ed Vel­ma not to crack up because no one else in his fam­i­ly was very good at tak­ing care of him." Look­ing down at the shoes I've put on with The Small Adven­tures of Pop­eye and Elvis, writ­ten by Bar­bara O'Con­nor (Far­rar, Straus & Giroux), they are cov­ered in red dust. It's the South, a place I have nev­er lived, the roads of which I've walked con­vinc­ing­ly in Bar­bara's many books. Pop­eye is bored. "It would always be bor­ing in Fayette, South Car­oli­na. Every day would be the same. Pop­eye was cer­tain about that. But Pop­eye was wrong." Indeed, a Hol­i­day Ram­bler with a mom and dad and six kids gets stuck in the red mud on the road near Popeye's house and life will nev­er be the same. Elvis and Pop­eye become fast friends, but there's Calvin, Pris­sy, Wal­ter, Willis, and Shorty to avoid when the two boys set off for adven­ture. Who is sail­ing mys­te­ri­ous small boats down the creek? Where do the dead dogs live? How can they solve these mys­ter­ies with­out going "too far" into the woods? How will Pop­eye avoid mak­ing Vel­ma "livid"? Read this and enjoy gem-like lines, such as "Calvin! You got your stu­pid head on today?" These shoes fit, even if they're walk­ing down South­ern roads. And Vel­ma is invit­ed over dinner.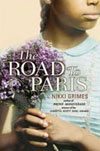 In The Road to Paris by Nik­ki Grimes (Put­nam), I'm for­tu­nate to wear the shoes of a fos­ter child … with­out hav­ing to be one. Paris has a mom with a messed-up head and a pen­chant for drink­ing too much. She moves the kids around a lot and nev­er stays put for very long. When Paris, age eight, and her broth­er Mal­colm, age ten, are placed in fos­ter care, their expe­ri­ences are bad enough to make them run away. The only fam­i­ly they have left is their grand­moth­er, but she says, "I've already raised my kids. I'm too old to start that all over again." Mal­colm and Paris are sep­a­rat­ed, each one sent to fos­ter homes hours away from each oth­er. Paris goes to live with the Lin­colns, who turn out to be the best kind of fam­i­ly for a girl like her. It takes her awhile to build her trust with this fam­i­ly and poten­tial friends at school. She's nev­er been at a school for long, so every­thing is new to her. This is a book filled with love and under­stand­ing and hope.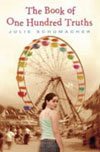 What's it like to think of your­self as a liar? How do you live inside of that skin? How do you wear those shoes? Beach shoes, in this case. In Julie Schu­mach­er's The Book of One Hun­dred Truths (Dela­corte), Thea is keep­ing a secret. Keep­ing the secret makes her lie, and lie, and lie. She's twelve years old. Her par­ents have been send­ing her to the New Jer­sey coast to vis­it her rel­a­tives every sum­mer since she was six. This time, her moth­er hands her a farewell gift. "It's a note­book of truths. You can write any­thing you want in here, as long as every sin­gle thing you write is true." It turns out her moth­er expects her to write one hun­dred true things in that book. Thea can't imag­ine how she will do this. She is, after all, a Liar. This will also be chal­leng­ing because her sev­en-year-old cousin, Joce­lyn, is nosy and she wants to know what Thea is writ­ing in this book. Her nosi­ness extends to the secret that Aunt Celia and Aunt Ellen are guard­ing and the girls become con­vinced they must found out what it is. They're afraid it's all about putting their grand­par­ents in a nurs­ing home. Nei­ther of the girls can imag­ine life chang­ing in this way. As it turns out, secrets and lies and hurt and love get tan­gled togeth­er until every­one trusts every­one else enough to tell the truth.

In what I thought might be the hard­est fit for a new pair of shoes, Rita Williams-Gar­cia writes about One Crazy Sum­mer (Amis­tad) when Del­phine, Vonet­ta, and Fern trav­el to Oak­land, Cal­i­for­nia, to stay for the sum­mer with their moth­er, Cecile, who aban­doned them sev­en years ago. Even though Del­phine and her sis­ters live full-time with their father and grand­moth­er, it real­ly both­ers the girls that their moth­er left them behind. This will be the first time they've seen her since she left and it turns out Cecile does­n't want them there. She makes the girls walk to get Chi­nese take­out for their meals, won't let them in the kitchen even though Del­phine knows how to cook, says noth­ing about the strange peo­ple who slip in and out of her house, and then sends them to a day camp run by the Black Pan­thers. Set in 1968, this is a time I vague­ly remem­ber but it is a life I can­not imag­ine. Fierce­ly in charge at age eleven, Del­phine takes care of her younger sis­ters with adult deter­mi­na­tion. As an only child, I don't know the weight of this respon­si­bil­i­ty. Del­phine does­n't agree with the ideas her sum­mer camp Sis­ters are try­ing to get into her head. "We did­n't come here for the rev­o­lu­tion." She has been raised to think a cer­tain way and it takes her awhile to take the risk, to look at things from her moth­er's point of view. Del­phine finds her­self want­i­ng to earn her moth­er's respect, to find ways in which they are alike. It's a book I want to read again, to make sure I did­n't miss any of the good parts.
What are your "shoe" books? Which books can you rec­om­mend to peo­ple who want to try on a dif­fer­ent pair of shoes for awhile?