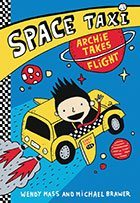 Space Taxi: Archie Takes Flight
Wendy Mass and Michael Braw­er, illus by Elise Grav­el
Lit­tle, Brown Books for Young Read­ers
What a hoot! When eight-year-old Archie Morn­ingstar gets up ear­ly in the morn­ing for his first Take Your Kid to Work Day, he nev­er imag­ines that his taxi-dri­ving dad in their rick­ety cab is actu­al­ly a taxi dri­ver for the stars. The stars in out­er space that is. Dad's been wait­ing for Archie to grow up, sus­pect­ing he'll make an excel­lent nav­i­ga­tor like his grand­fa­ther before him. It turns out that Archie does have the spe­cial skills need­ed to guide his dad to the next cus­tomer ren­dezvous.
Nei­ther of them expect their first pick-up to be part of an inter­stel­lar gang or that the skulk­ing cat with a green cir­cle around his tail is real­ly a … spy orga­ni­za­tion that's fight­ing to save the uni­verse? Indeed!
The first in a series of chap­ter books, this is a good choice for kids who like sci­ence fic­tion, adven­ture, humor, and gad­gets. Great gad­gets! This book appeals on many lev­els but most of all it's fun to read. High­ly rec­om­mend­ed.
A sec­ond title in the series is due out this Sep­tem­ber, Space Taxi: Water Plan­et Res­cue. Make a note.
(Note: My review of this book is based on an e‑book I pur­chased.)