For old­er read­ers, grades four through sev­en, there are great series choic­es. How many books do a series make? I'm think­ing three or more — I have no idea if there's an offi­cial clas­si­fi­ca­tion.
In July, I heard three excel­lent speak­ers on chil­dren's lit­er­a­ture, Ani­ta Sil­vey, Judy Free­man, and Bar­bara Swan­son Sanders. They could­n't get their book rec­om­men­da­tions out fast enough. There are so many good books to rec­om­mend! The mes­sage that came through loud and clear is that there's a book for every type of read­er — even kids (and adults) who "hate" to read. If you see a series list­ed that would­n't find a place on your shelves, step back for a moment and imag­ine the read­er who would find that book unput­down­able. Let's think not so much in terms of Everyread­er but about that spe­cif­ic read­er who will grow to love books from the care­ful­ly cho­sen book you put into their hands.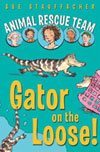 Ani­mal Res­cue Team (1-Gator on the Loose; 2-Spe­cial Deliv­ery!; 3-Hide and Seek; 4-Show Time) by Sue Stauf­fach­er, illus by Priscil­la Lam­ont (Knopf). Grades 4 and up. Meet Carters' Urban Res­cue, an entire fam­i­ly who res­cues ani­mals and restores them to health and their most prac­ti­cal habi­tat. That's the premise for this series about Keisha Carter, her mom, dad, grand­moth­er, five-year-old broth­er, and baby broth­er. Every­one pitch­es in to the fam­i­ly busi­ness. For many read­ers, this will be a wel­come fan­ta­sy. Work­ing this close­ly with ani­mals of all kinds? In the first book, an alli­ga­tor is found swim­ming in the city pool. Alli­ga­tors are poik­ilo­ther­mic, which means they're cold-blood­ed. They can't live in Michi­gan in the win­ter. Many peo­ple buy baby alli­ga­tors as pets, think­ing they're cute or unusu­al, but when they get big­ger they can't afford to feed them and they can't han­dle them, so the alli­ga­tors are aban­doned. The Carters take the alli­ga­tor to a sanc­tu­ary, where they learn a great deal about car­ing for these unusu­al rep­tiles. Read­ers will learn a great deal about alli­ga­tors after read­ing Gator on the Loose, just as they will about skunks in Spe­cial Deliv­ery! Filled with high-spir­it­ed action, humor, and dis­cov­ery, these are sure to delight any ani­mal-lov­ing read­er.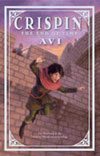 Crispin (1-Crispin: Cross of Lead; 2-Crispin: at the Edge of the World; 3-Crispin: the End of Time) by Avi (Hype­r­i­on, Harper­Collins). From the moment we meet Crispin in the first book, we under­stand that this is a boy marked for adven­ture … and each of the books proves this to the read­er. By turns fun­ny and spine-tin­gling, famil­iar and breath-tak­ing, the books are set in 14th-cen­tu­ry Eng­land and France. When we meet Crispin, he is known only as Asta's son, but a chance meet­ing with the rough­ly hewn giant-of-a-man Bear leads the duo on dan­ger­ous paths and the dis­cov­ery of Crispin's true iden­ti­ty. As their sto­ry con­tin­ues in Crispin: at the Edge of the World, Crispin and Bear are on the run, hop­ing to avoid the Broth­er­hood, who are con­vinced Bear is a trai­tor. They add to their fam­i­ly by tak­ing Troth, a young girl with herbal heal­ing knowl­edge and a cleft lip, with them on their trav­els. They escape across the Eng­lish Chan­nel to Brit­tany, where they're con­script­ed to fight in a sense­less bat­tle against a French church. Recent­ly released, the eager­ly antic­i­pat­ed third book, Crispin: the End of Time, finds Crispin trav­el­ing on alone, with­out Bear and Troth, and he joins up with a troupe of enter­tain­ers who are more and less than they appear to be. Crispin, on Bear's advice, is try­ing to find Ice­land, a place of peace. These books are filled with trav­els, tri­als, and treach­ery, bal­anced by the love shared by Crispin, Bear, and Troth. Great adven­ture nov­els for all kinds of read­ers and an excel­lent series for read­ing out loud.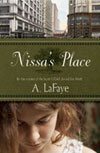 Nis­sa (1-The Year of the Saw­dust Man; 2-Nis­sa's Place; 3-The Strength of Saints) by Alexan­dria LaFaye (reis­sued by Milk­weed Edi­tions). As in all of Alexan­dri­a's nov­els, the strong voice of her main char­ac­ter, Nis­sa Bergen, cre­ates a pow­er­ful trio of sto­ries about a young girl grow­ing up in uncer­tain­ty. Nis­sa's moth­er, a free spir­it who is admon­ished by the towns­peo­ple and well-loved by her hus­band and daugh­ter on her best days, is also a per­son who lacks a sense of respon­si­bil­i­ty and fre­quent­ly expe­ri­ences dark days. When she aban­dons her fam­i­ly, chins wag and hurt feel­ings abound. Nis­sa is con­fused and angry, but her obser­va­tions of the world around her make this book a joy to read. Did her moth­er take off with anoth­er man like the peo­ple are say­ing in town? Was it some­thing Nis­sa said or did? Or are there oth­er rea­sons why her moth­er has run away from Harp­er, Louisiana? In the next book, Nis­sa's Place, her moth­er wants Nis­sa to accom­pa­ny her to Chica­go, where they'll be part of a the­atri­cal troupe. Know­ing that Nis­sa is hav­ing trou­ble accept­ing her new step­moth­er's need to make their house her own, Nis­sa's father is reluc­tant to let Nis­sa go, but eager to let her explore the world. When it's time for a deci­sion, where will Nis­sa choose to live? Will she seek after her moth­er's care­free yearn­ings or her father's equal­ly strong need for a sta­ble envi­ron­ment? In the final book, one of my favorites, Nis­sa must have The Strength of Saints. It's 1936 in Louisiana and 14-year-old Nis­sa awak­ens from ado­les­cence to real­ize that her town is racial­ly divid­ed in a bruis­ing and ugly way. She founds the East and West Libraries, sep­a­rate but equal libraries for blacks and whites. Eager­ly cru­sad­ing for what she believes is right, the nov­el looks at many of the chal­lenges faced in Amer­i­ca's his­to­ry. This series will be enjoyed by avid read­ers from ages 10 and up.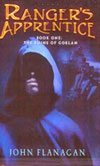 Ranger's Appren­tice (1-The Ruins of Gor­lan; 2-The Burn­ing Bridge; 3-The Ice­bound Land; 4-The Bat­tle for Skan­dia; 5-The Sor­cer­er of the North; 6-The Siege of Macin­daw; 7-Erak's Ran­som; 8-The Kings of Clon­mel; 9-Halt's Per­il; 10-The Empor­er of Nihan-Ja) by John Flana­gan (Pen­guin). Will appeal to those who enjoy fast-paced, adven­tur­ous fan­ta­sy nov­els. Prob­a­bly most enjoyed by read­ers ages 10 and up. Heck, I know adults who eager­ly await the next vol­ume in this series. The appeal is unre­lent­ing. Will is an orphan who is cared for by the Baron Arald and his staff. It is expect­ed that when Will is old enough, he'll be appren­ticed in a field in which he would enjoy work­ing and do his best. Every­one is sur­prised when Will is cho­sen by Halt, one of the King's Rangers. Will's train­ing is both fun­ny and dan­ger­ous, but it pre­pares him for the chal­lenges ahead in the bat­tle with Lord Mor­garath, the Lord of the Moun­tains of Rain and Night. Fear­some crea­tures are sent by Mor­garath to do bat­tle with the King's fief­doms and the Rangers are fore­most play­ers in their roles as spies, mes­sen­gers, and strate­gists. This series stands out as one of the best fan­tasies in recent years. Its char­ac­ters, twist­ing plot, ful­ly-real­ized world, and over­ar­ch­ing human­i­ty. A sure-fire sug­ges­tion for those who enjoy fan­ta­sy.

4 for 4 (1-Top of the Order; 2-Eyes on the Goal; more to come) by John Coy (Fei­wel & Friends). Grades 4 and up. Four boys with dif­fer­ent fam­i­ly chal­lenges and strengths come togeth­er for sports. In Top of the Order, they play base­ball — and they have to "get over" hav­ing a girl on the team. Espe­cial­ly Gig. The girl is his sis­ter, Syd­ney, and he has a hard enough time liv­ing up to her off the field. Diego, Quinn, Gig, and Jack­son are in their last year of ele­men­tary school. They like being team­mates and friends and they're wor­ried that they'll be split up in dif­fer­ent mid­dle schools. In Eyes on the Goal, the four­some heads off to sum­mer soc­cer camp, where they work hard­er than expect­ed to get bet­ter at their game. Two more books are expect­ed in this series, each one focused on a dif­fer­ent sport. Great read­ing for boys and girls alike.
What a lot of series there are! Thank heav­ens, because it gives read­ers a sense of belong­ing and antic­i­pa­tion. Just ask the legions of Nan­cy Drew and Har­ry Pot­ter fans … and series books are just right for the slow­er pace of sum­mer.