There's still more sum­mer read­ing time, whether relax­ing in your favorite lawn chair, next to a bur­bling creek, sit­ting in the mid­dle of your gar­den, or soak­ing in a wad­ing pool.
When do I read? I always read before going to sleep. I read when I first get up in the morn­ing — it's a great way to greet the day. I take read­ing breaks through­out my work­day. Read­ing to col­lect infor­ma­tion, find out what's going on in the world (I pre­fer words to images), and to set fire to my imag­i­na­tion. Why do you read? When do you read? And where do you read?
Here are some more series books to intrigue the younger read­ers in your life:

Ivy + Bean (1-Ivy + Bean; 2-Ivy + Bean and the Ghost that Had to Go; 3-Ivy + Bean Break the Fos­sil Record; 4-Ivy + Bean Take Care of the Babysit­ter; 5-Ivy + Bean Bound to Be Bad; 6-Ivy + Bean Doomed to Dance; 7-Ivy + Bean What's the Big Idea?) writ­ten by Annie Bar­rows, illus by Sophie Black­all (Chron­i­cle Books). Ear­ly chap­ter books. In Bound to Be Bad, Ivy learns about Saint Fran­cis of Assisi and decides that she would like birds and ani­mals to come to her because she's pure of heart. Bean, who has few­er bound­aries than Ivy, can't imag­ine how they can be pure of heart unless they're bad first. They have a hard time doing some­thing bad enough that the neigh­bor­hood kids think will require them to reform … which sets off a rash of try­ing to be bad among the whole gang. Annie Bar­rows paints word pic­tures of utter­ly believ­able chil­dren and Sophie Black­all inter­prets them with fre­quent illus­tra­tions. Young read­ers will rec­og­nize them­selves and their friends among the cast of fre­quent char­ac­ters and each of us is made of a lit­tle bit Ivy and a lit­tle bit Bean. Per­fect for kids who love to laugh out loud.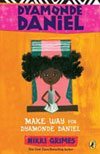 Dya­monde Daniel (1-Make Way for Dya­monde Daniel; 2-Rich; 3-Almost Zero) writ­ten by Nik­ki Grimes, illus by R. Gre­go­ry Christie. When Dya­monde moves to Wash­ing­ton Heights with her new­ly divorced moth­er, she is lone­ly. She sees a lot of sub­trac­tion in her life and it does­n't make her hap­py. In spite of all this, she has a ded­i­cat­ed atti­tude, which makes read­ing about her good fun. "Dya­monde Daniel was a gem wait­ing to be dis­cov­ered. Just ask her. So what if she had wild-crazy hair and was skin­nier than half a tooth­pick? On the inside, she was extra­or­di­nary. Plus super smart. As a mat­ter of fact, she had more brains in her tiny lit­tle pinky than most kids had in their whole entire bod­ies." We could all adopt some of her atti­tude. But "If I'm so smart, thought Dya­monde, how come I've been in this new school three whole weeks and I still don't have a new best friend?" Friend­ship comes from an unlike­ly source. These books are right on the mark with sto­ry, char­ac­ters, and appeal. Dya­monde fre­quent­ly talks about books she loves to read and how much she enjoys writ­ing. Thor­ough­ly enjoy­able.

Time Spies (1-Secret in the Tow­er; 2-Bones in the Bad­lands; 3-Giant in the Gar­den; 4-Magi­cian in the Trunk; 5-Sig­nals in the Sky; 6-Rid­er in the Night; 7-Hors­es in the Wind; 8-Gold in the Hills; 9-Mes­sage in the Moun­tain; 10-Flames in the City) by Can­dice Ran­som (Mir­ror­stone / Wiz­ards of the Coast). Grades 2 and up. Alex, Mat­tie, and their younger sis­ter Sophie are moved to Vir­ginia when their par­ents buy the Gray Horse Inn and 70 acres of Wild­cat Moun­tain. Dis­grun­tled, they're sur­prised to dis­cov­er a secret room in the Inn, a mag­ic spy­glass, fore­shad­ow­ing post­cards, and a Trav­el Guide, all of which send them time trav­el­ing back in his­to­ry. In their first adven­ture, they're quite unpre­pared to vis­it the Rev­o­lu­tion­ary War. In Bones in the Bad­lands, the Trav­el Guide Ms. Van Hov­en sends them to the Bad­lands, where they work with Wal­ter Granger, the pale­on­tol­o­gist who dis­cov­ered North Amer­i­ca's great­est dinosaur fos­sil quar­ry in 1898. I've always loved fic­tion, but I liked it even bet­ter when I could explore the world beyond my small town. Whether that explo­ration took the form of trav­els in his­to­ry, georg­ra­phy, sci­ence, art, or cook­ing, a book was even bet­ter when I learned some­thing new. These books do just that — they frame dis­cov­er­ies and his­to­ry with­in tales of mag­ic and time trav­el. My inter­est in pale­on­tol­ogy was piqued by the skills the three sib­lings learned dur­ing their time with Granger and his field work­ers. Maybe my next job should be a dinosaur cow­boy.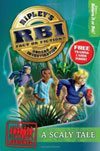 Rip­ley's Bureau of Inves­ti­ga­tion (1-A Scaly Tale; 2-Drag­on's Tri­an­gle; 3-Run­ning Wild; 4-Secrets of the Deep; 5-Wings of Fear; 6-Sub-Zero Sur­vival; 7-Shock Hor­ror; 8-The Lost Island) by Kay Wilkins, illus by Ailin Cham­bers (Rip­ley Pub­lish­ing). In a cross between the X‑men's Xavier Insti­tute and the most-checked-out-books-in-the-library, Rip­ley's Believe It or Not, a team of kids with spe­cial abil­i­ties (con­trol­ling the weath­er, extra­or­di­nary strength, psy­chom­e­try, among many oth­ers) works for Rip­ley High, guid­ed by a "ful­ly inter­ac­tive holo­graph­ic Robert Rip­ley." Sev­er­al of the kids are sent on a mis­sion in each book, meant to dis­cov­er if some­thing seem­ing­ly impos­si­ble is fact or fic­tion. Based on real exhibits, inves­ti­ga­tions, and facts in the Rip­ley files, these books are ide­al­ly designed for the same "fact" read­ers who can't imag­ine them­selves read­ing fic­tion but for whom kids with super-abil­i­ties are irre­sistible. I was fas­ci­nat­ed to learn about Erik Sprague, an enter­tain­er liv­ing in New York, who spent years hav­ing his body tat­toed and mod­i­fied to look like a human lizard. He began his trans­for­ma­tion at the age of 10. Then there's Den­nis Avn­er in Neva­da whose tat­toes and plas­tic surg­eries are turn­ing him into a cat. Who knew?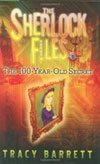 The Sher­lock Files (1-The 100-Year-Old Secret; 2-The Beast of Black­s­lope; 3-The Case That Time For­got) by Tra­cy Bar­rett (Hen­ry Holt). I've read The 100-Year-Old Secret sev­er­al times now and I con­tin­ue to uncov­er gems in Ms. Bar­ret­t's sto­ry­telling. Xena and Xan­der are immense­ly appeal­ing sib­lings whose par­ents have moved to Eng­land so dad can teach music and com­pos­ing at a col­lege there. The kids are resent­ful but try­ing to adapt. They've brought The Game with them. Wait! Noth­ing dig­i­tal here. These two play The Game by notic­ing the details in their sur­round­ings, peo­ple, and the sights and sounds of Eng­land. They deduce what peo­ple are doing, what their jobs are, and where they're going. When a friend­ly con­spir­a­cy leads them to the Soci­ety for the Preser­va­tion of Famous Detec­tives, the sis­ter and broth­er dis­cov­er they are the great-great-great-grand­chil­dren of Sher­lock Holmes. And the Soci­ety expects that they will tack­le some of Sher­lock­'s unsolved cas­es, start­ing with the iden­ti­ty of the sub­ject in a famous miss­ing paint­ing, The Girl in the Pur­ple Hat. Clues abound and some­times seem obvi­ous and then the detec­tion heads in a dif­fer­ent direc­tion. These are well-planned mys­ter­ies, very sat­is­fy­ing to read. I look for­ward to new vol­umes in the series.
You've prob­a­bly observed that we're list­ing the series of books in order. Librar­i­ans and teach­ers (and grand­par­ents) all over the coun­try have writ­ten to say they wish they knew which book to pick off the shelves next. So look for a guide to series in order com­ing soon to the CLN site.
On Wednes­day, we'll talk about series books for old­er read­ers.