Every good inten­tion of post­ing every week­day … and then a vicious flu attacks and all plans go astray. Flu trumps blog. Now I know.
One good thing to come out of hav­ing a week-long flu: my to-be-read pile isn't as high as it once was.
In fact, it brought back mem­o­ries of a per­fect sum­mer day. All my neigh­bor­hood friends were busy doing some­thing else, so I would ride five miles across town to the library on my Schwinn bike with the deep wick­er bas­ket. It was an ivy-cov­ered brick Carnegie library set up on a hill. There were two floors. You went up the grand flight of stairs out­doors to the rooms with the lofty ceil­ings where adults could check out books. If you were a child, you went in the side door, down a flight of steps, to the low­er, cozi­er floor where chil­dren's books were avail­able. The librar­i­an decid­ed when it was time for you to ascend the stairs … a rite of pas­sage for readers.
Return­ing to my grand­par­ents' yard, six to eight books in my bas­ket, I would get out the blue blan­ket that served as my mag­ic car­pet for play­time and spread it out under the arch­ing elm tree in the back­yard. I'd stack all the books next to me and make that deli­cious choice: which book to read first? Nes­tled against the tree trunk, the world grew infi­nite­ly larg­er. I was trans­port­ed to far­away places, meet­ing new friends who would become a part of my life, learn­ing about things I could­n't pos­si­bly expe­ri­ence in my small home­town, pop­u­la­tion 8,000.
This week, I'm going to focus on books that I think would be ide­al choic­es for sum­mer read­ing on a blan­ket in the backyard.
Series books were a favorite of mine because you did­n't have to leave the book's world that soon. The peo­ple and the set­ting went on … becom­ing a fam­i­ly for a peri­od of time.
Three series are high­ly rec­om­mend­ed, sat­is­fy­ing sum­mer fare. For younger girls, Julie Bowe's Friends for Keeps. For old­er girls, Heather Vogel Fred­er­ick­'s Moth­er-Daugh­ter Book Club books. For all kinds of kids and read­ers, Rick Rior­dan's Kane Chronicles.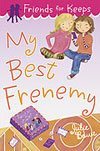 Julie Bowe rec­og­nizes that life is about friend­ships when you're in third and fourth grade. Ida May is a lik­able hero­ine who los­es her best friend, gains a new best friend, and is beset by tri­als, tribu­la­tions, and a bossy girl who makes life dif­fi­cult. Every girl who reads this book will find them­selves in one of the char­ac­ters. Ms. Bowe under­stands girls, how they think, how they some­times don't think, and how easy it is to want to do the right thing and end up mak­ing the wrong choice. Filled with adven­ture, humor, and good friend­ships, the books in the series are: My Last Best Friend, My New Best Friend, and My Best Fren­e­my. A fourth book in the series is on its way.

When The Moth­er-Daugh­ter Book Club series begins, the four main char­ac­ters are eleven. Set in Con­cord, Mass­a­chu­setts, the girls' moms all attend a yoga class where they cook up the idea of a moth­er-daugh­ter book club, much to the cha­grin of their daugh­ters. Jess, stu­dious and shy, lives on a work­ing cen­tu­ry farm. Her mom is liv­ing in New York City, star­ring on a soap opera. Emma's the daugh­ter of the town's librar­i­an and a free­lance writer. She reads a great deal but she's not great at math or sci­ence. Jess and Emma are friends. They used to be friends with Megan, but when her com­put­er tycoon dad and MIT-grad moth­er became rich, Megan start­ed hang­ing out with the pop­u­lar girls at school. Cas­sidy has just moved to town. Her dad died recent­ly and her world-famous mom, a fash­ion super­mod­el, has decid­ed to move her daugh­ters clos­er to their fam­i­ly. Cas­sidy is sports-crazy and man­ages to play on all the boys' teams because of Title IX. When this group comes togeth­er to read Lit­tle Women over the course of a year, the girls don't want to par­tic­i­pate. They're not even sure they can get along. Each book in the series sees them anoth­er year old­er, with many changes, chal­lenges, and much to applaud. I par­tic­u­lar­ly enjoy the fact that each book revolves around a clas­sic book and the girls have grown a year old­er. Read them in this order: The Moth­er-Daugh­ter Book Club (Lit­tle Women), Much Ado about Anne (Anne of Green Gables), and Dear Pen Pal (Dad­dy Long-legs). These books will appeal to all girls. A fourth book is on the way.
I read the Per­cy Jack­son books as quick­ly as they came out, but Rick Rior­dan's Kane Chron­i­cles is set in Egypt. I tried read­ing the Egypt­ian Book of the Dead when I was 12 or 13, but I could nev­er fig­ure out the rela­tion­ships between and among the pletho­ra of gods. In true Rior­dan style, this is a rip-roar­ing adven­ture ride of a book, with two strong­ly iden­ti­fi­able char­ac­ters, a broth­er and sis­ter who haven't lived togeth­er for a num­ber of years and don't know each oth­er, but the Egypt­ian gods make this a dif­fer­ent type of book than the Olympian gods did. The Egypt­ian gods seem more like fam­i­ly and their leg­endary char­ac­ter­is­tics help them fit into the sto­ry well. There's plen­ty of mys­tery and sus­pense … just right for sum­mer read­ing blan­ket beneath the tree. Only the first book in the series is avail­able: The Red Pyra­mid. I'm look­ing for­ward to the rest.
More sug­ges­tions to come …