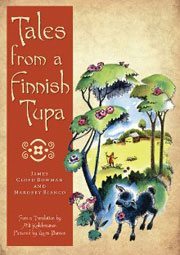 Orig­i­nal­ly pub­lished in 1936 by Albert Whit­man & Com­pa­ny, Tales from a Finnish Tupa has recent­ly been reis­sued by the Uni­ver­si­ty of Min­neso­ta Press. This col­lec­tion of Finnish tales includes sto­ries of mag­ic and humor ("Droll Tales") as well as fables or pourquoi stories.
I can remem­ber read­ing the "Col­or Fairy" books when I was younger. Andrew Lang col­lect­ed tales from most of the con­ti­nents in books such as The Red Fairy Book, The Orange Fairy Book, and The Lilac Fairy Book. They are pub­lished today by Dover and they should be avail­able at libraries. The black-and-white illus­tra­tions with­in are intrigu­ing and the tales are as inter­est­ing now as they were to the child read­er I was.
Rem­i­nis­cent of those books, Tales from a Finnish Tupa has a charm all its own. The new ver­sion has a won­der­ful cov­er that implores the read­er to pluck it off the shelves. I know this because I have repeat­ed­ly picked it up in the last sev­er­al weeks, dip­ping deli­cious­ly into a sto­ry here and there, always think­ing I can read just one, but so delight­ed that I've always end­ed up read­ing two.
In "Jur­ma and the Sea God," a farmer is repeat­ed­ly duped into sav­ing him­self by giv­ing one of his daugh­ters to the Sea God. The first two daugh­ters are just as greedy as their father, end­ing up in a vat of black tar. The third daugh­ter is wise in the way that youngest chil­dren often are in folk tales … she fig­ures out a way for the three sis­ters to escape.
In "Mielik­ki and Her Nine Sons," mag­ic and witch­craft, those expla­na­tions for the unex­plain­able, find the evil-heart­ed Noi­ta-Akka sub­sti­tut­ing her own sons, black crows, for the King and Queen's first sev­en chil­dren. The Queen, Mielik­ki, fig­ures out what is going on in time to save her two youngest sons. The King, of course, assumes the evil one is his wife and he com­mands her to be put into an iron bar­rel with enough food for thir­teen years and cast adrift upon the sea. The Queen hides her two youngest sons in the bar­rel with her and they even­tu­al­ly grow into young men, explod­ing the bar­rel open on a rocky island. More mag­ic ensues and the Queen and King are even­tu­al­ly reunit­ed. The two young sons set out to save their sev­en old­er broth­ers … and all ends well. The sto­ry is as action-packed an adven­ture as any Indi­ana Jones movie.
One of my par­tic­u­lar favorites can be found in the sec­tion of "Droll Sto­ries." I believe "The Wise Men of Hol­mo­la" could be a thin­ly veiled com­men­tary on any leg­isla­tive body you care to substitute.
In fact, it's great fun to imag­ine how these sto­ries came to be. Were they com­men­taries on the times? Did some­one in the cold­est night of win­ter sev­en hun­dred years ago imag­ine a wild tale that went on and on and on to keep those gath­ered around the fire from going crazy with bore­dom? Is the sense of humor cap­tured with­in these time­less tales evoca­tive of the Finnish peo­ple? There are many descen­dants of the Finns liv­ing in Min­neso­ta and Michi­gan. I have no trou­ble fit­ting these tales to the way they tell sto­ries. It's easy to imag­ine Mat­ti Ojala's fam­i­ly trad­ing these tales in front of the fire­place in Song of Sam­po Lake by William Durbin.
It's also inter­est­ing to imag­ine how the team who orig­i­nal­ly cre­at­ed this book got togeth­er. Back in 1936, James Cloyd Bow­man was 56 years old and Margery Williams Bian­co was 55. Bow­man's Pecos Bill: the Great­est Cow­boy of All Time (Albert Whit­man) received a New­bery Hon­or in 1938. Margery Williams had pub­lished The Vel­veteen Rab­bit in 1922. Lau­ra Ban­non, whose illus­tra­tions are still cap­ti­vat­ing whether they're black-and-white or the sev­en col­or plates bound into the mid­dle of the book, was a well-known Chica­go-based illus­tra­tor who taught at the Art Insti­tute there. The trans­la­tor, Aili Kolehmainen, also trans­lat­ed the Finnish Kale­vala. There's a bit more about her and Finnish sto­ry tra­di­tion here.
I am grate­ful to the Uni­ver­si­ty of Min­neso­ta Press for bring­ing these sto­ries back to the light. Read Tales from a Finnish Tupa on your blan­ket under the sum­mer canopy of leaves or take it along as the per­fect read-aloud for your sum­mer car trip.