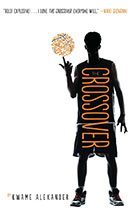 The Crossover
Kwame Alexan­der
Houghton Mif­flin Har­court
From the moment I began read­ing this poet­ry col­lec­tion, I knew it was a dif­fer­ent type of book because the rhythms, the cadence, were infused with ener­gy and aware­ness. The Crossover is pri­mar­i­ly free verse, with a few hiphop, rhyth­mic poems that change up the action. The nar­ra­tor, Josh, or Filthy McNasty as his bas­ket­ball per­sona is proud to be called, is buoy­ant, obser­vant, filled with sports metaphors, and adept at word­play.
Josh is a twin. His broth­er, J.B., or Jor­dan (yes, named after that Jor­dan) is as com­pet­i­tive on the bas­ket­ball court as Josh. They're in sev­enth grade and already the sports play is fierce. Their father is a for­mer pro­fes­sion­al bas­ket­ball play­er who enjoys fame and acknowl­edg­ment for lead­ing his Euroleague team to back-to-back vic­to­ries. Injuries have kept him side­lined and Head of Encour­age­ment for his twin sons' bas­ket­ball paths. Their moth­er is an assis­tant prin­ci­pal at their school so she's first in line for hand­ing out con­se­quences when Josh's jeal­ousy gets the best of him and he acts in a very unsports­man­like way … to his broth­er.
It's a fast-paced book that will inter­est read­ers who fol­low game play. There's enough atti­tude and humor to prompt laugh­ter along the way. Yet this is a seri­ous book about fam­i­ly and respon­si­bil­i­ty, respect and rela­tion­ships, and the uneasy life of a teenag­er. Mr. Alexan­der nev­er lets the plot drift into pre­dictable rest­ing places. The ten­sion was so strong that I neglect­ed my work in order to fin­ish the book. Fin­ished, I feel as though I've met a char­ac­ter, a fam­i­ly, I want to know in real life … and that's how the best books win our hearts. High­ly rec­om­mend­ed.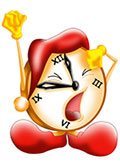 (Note: My review of this book is based on an e‑book I pur­chased.)