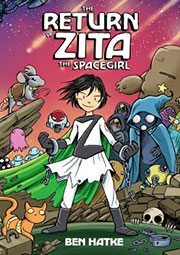 Ben Hatke can't con­ceive of, write, and draw these sto­ries fast enough for me — and a host of oth­er fans. Just released, this book fol­lows Zita the Space­girl (2010) and Leg­ends of Zita the Space­girl (2012). Doing the math, I know I won't be read­ing the next install­ment until 2016. Whah­hh.
I've read so many sto­ries "in my life and time," pre­dict­ed the out­come of tele­vi­sion and movie plots with reg­u­lar­i­ty, that it's a remark­able plea­sure when I don't know what's com­ing next. Ben Hatke writes that way. Just as impor­tant­ly for comics, he draws that way. Each page turn reveals a delight­ful­ly con­ceived alien species, a char­ac­ter act­ing in a sur­pris­ing way, or a plot turn that I was­n't expect­ing.
Zita is a girl who thinks ahead, invents solu­tions, stays true to her friends, and has a hero's heart. Thrust unex­pect­ed­ly into an alien world when she curi­ous­ly picks up an object that fell from the skies, Zita is deter­mined to res­cue her play­mate Joseph who has been tak­en by the Scrip­to­ri­ans to save their world. No worth­while plot is ever straight­for­ward, so Zita meets friends along the way, like Piper, Pizzi­ca­to, Madri­gal, and Strong-Strong, some of whom are reli­able and some of whom aren't.
For those who find comics hard to read because of the frames and the some­times incon­sis­tent­ly-drawn char­ac­ters, this is the com­ic series for you! Hatke's draw­ings are some­times beau­ti­ful, some­times intri­cate, some­times fun­ny, but they are always under­stand­able. His col­or palette, the faces of all the dif­fer­ent beings (he, she, and it), and his action shots are wor­thy of close scruti­ny … and I found myself doing just that so I wouldn't miss any­thing. (I'm pret­ty sure there are sub­tle homages to oth­er sto­ries and some puns with­in his frames.)
In this third vol­ume (you wouldn't have to read them in order, but I think you'll enjoy them more if you do), Zita is sep­a­rat­ed from her friends in a dun­geon where it looks as though her life will end. Her foes are brawnier and more deter­mined to defeat "Zita the Crime Girl" and Zita is just as deter­mined to save Earth, which the evil Screed are plan­ning to invade. High ten­sion indeed!
The back cov­er says this is the "last quest" of Zita the Space­girl, but I think not. The world could not be that cru­el.
Don't miss the "Ori­gin and Evo­lu­tion of Zita the Space­girl" at the end of this third vol­ume. If you have any aspi­ra­tions for writ­ing your own comics, or know a gazil­lion kids who do, this is mighty tasty frost­ing. Hey, Zita, "We Need You!"
Enjoy Ben Hatke's web­site and blog. I do!
The Return of Zita the Space­girl
writ­ten and illus­trat­ed by Ben Hatke
First Sec­ond, May 13, 2014