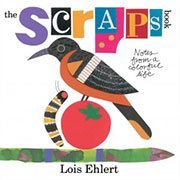 Some­times I want to walk right into the pages of a book, know every­thing the author knows, share their life­time of expe­ri­ences, and be able to emu­late their cre­ativ­i­ty. Scraps: Notes from a Col­or­ful Life makes me feel that way. I've even enjoyed the feel­ing and tex­ture of the paper because I want in!
For you, your fam­i­ly mem­bers, and friends who like to col­lect, to cre­ate, to fid­dle with this and that as you make some­thing, this is the book to have.
It's filled with inspi­ra­tion but it doesn't have step-by-step, num­bered process­es for you to go through and re-cre­ate Ms. Ehlert's projects. That's not the point. Instead the pages are filled with images you can deci­pher to fig­ure out how you would cre­ate this type of art.
The book is filled with labels and details. I love the pages that show how Ms. Ehlert cre­ates thumb­nails for a 32-page pic­ture book. She shows the way in which she cre­ates an out­line so she can cut out paper to make a col­lage. Leaves are labeled as to where she found them. A list of words to describe fish helps her cre­ate a col­lage of the swim­my crea­tures.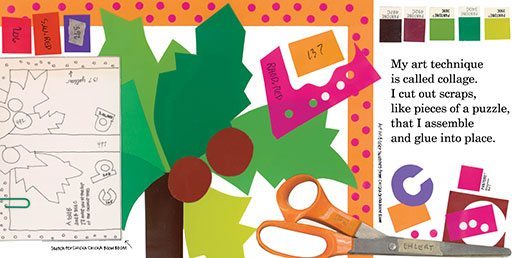 The best part is that, if you're a fun of Lois Ehlert's books the way I am (and I have thou­sands and thou­sands of chil­dren and adults stand­ing behind me), she also shares her sto­ry. This is an auto­bi­og­ra­phy that only an artist could cre­ate. And Ms. Ehlert shared it with us. I feel hon­ored.
Do your­self a favor. Think ahead to all of the gifts you need for the crafty, artis­tic types in your cir­cle, as well as those who love children's books. This can be your go-to gift for this year's round of giv­ing. It's that good!
The Scraps Book: Notes from a Col­or­ful Life
writ­ten and illus­trat­ed and lived by Lois Ehlert
Beach Lane Books, 2014