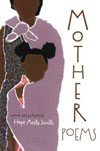 The city of Min­neapo­lis is mourn­ing an increased num­ber of homi­cides this year, just when city offi­cials were feel­ing good about how low the homi­cide rate had fall­en. Those are num­bers. I can't help but think about the peo­ple who mourn the loss of those lives. There will be a big hole in their hearts for a long, long time … if not for­ev­er.
I recent­ly read Moth­er Poems (Hen­ry Holt) by Hope Ani­ta Smith. Although I was caught in the tor­rent of emo­tions, I need­ed time to let it rest before I could write about the book. Time would soothe over the sor­row I felt for this … lit­tle girl who lost her moth­er, who so elo­quent­ly expressed her grief in these pages … woman, who lost her moth­er, who still car­ries on in spite of the large hole in her heart … artist, whose cut paper art­work speaks in a voice as qui­et, as loud, as angry, as hope­ful as the words in her poems … poet, whose strength and resilience and abil­i­ty to craft under­stand­ing with words will speak to any­one whose heart is no longer whole, no mat­ter if the emp­ty place was caused by a moth­er or grand­fa­ther or broth­er or aunt or son or best friend. No, time has­n't dimin­ished the pow­er­ful emo­tions that Moth­er Poems stirs. These will endure, con­nect­ing me to oth­ers who know about loss.
I think of the peo­ple who mourn. Some­times the news item has a face, most often it is only vital sta­tis­tics. It is hard for us to imag­ine the per­son, those who will grieve for the life that was, the life that could have been. Embrac­ing that life force, the holes in the hearts of those who loved each per­son … Hope Ani­ta Smith offers a pow­er­ful book of heal­ing and under­stand­ing.