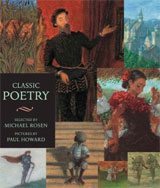 I have fall­en in love … with a book of poetry.
Can­dlewick Press has pub­lished a paper­back ver­sion of Clas­sic Poet­ry: an illus­trat­ed col­lec­tion, select­ed by Michael Rosen and illus­trat­ed by Paul Howard. Rosen was a Chil­dren's Lau­re­ate of Britain, well-known as an author, poet, sto­ry­teller, and broad­cast­er. Paul Howard is a chil­dren's book illus­tra­tor who con­fess­es in the fore­word to this vol­ume that he con­sid­ered him­self a "poe­t­us igno­ra­mus." While the two of them worked on this trea­sure, Paul lis­tened to Michael read, immersed him­self in images of the poets, and then pro­ceed­ed to cre­ate por­traits of each poet as well as illus­tra­tions in vary­ing styles … each of them delight­ful­ly illus­trat­ing the poem in a thought­ful and some­times elu­ci­dat­ing manner.
This is a col­lec­tion of clas­sic poet­ry … some of the poems will be famil­iar and some of them will find you ask­ing why you haven't read them before. It's a vital col­lec­tion, in the sense that these poems are alive.
"Mul­ga Bil­l's Bicy­cle," by Ban­jo Pater­son (the same fel­low who wrote "Waltz­ing Matil­da"), is a slap­dash, calami­tous bicy­cle ride down a moun­tain that will appeal to every Road Run­ner and Wile E. Coy­ote fan.
I found myself com­par­ing Hilaire Bel­loc's "Taran­tel­la" to a hip-hop rhythm.
I've nev­er read Carl Sand­burg's "Arith­metic" before: it's a gem! "Arith­metic tells you how many you lose or win if you know how many you had before you lost or won."
Some of the poems, such as Lord Byron's "The Destruc­tion of Sen­nacherib," make for a dra­mat­ic, clan­gor­ous read-aloud but the his­to­ry was lost on me. Thank good­ness Mr. Rosen pro­vides notes on the poems for just this rea­son. His expla­na­tions help to place the poem in con­text, mak­ing it even more powerful.
For Langston Hugh­es, "Moth­er to Son" is accom­pa­nied by a paint­ing that brings tears to my eyes.
"Snow in the Sub­urbs," by Thomas Hardy, is illus­trat­ed with exquis­ite detail and a black cat that will open the door to every heart.
The col­lec­tion is also an oppor­tu­ni­ty for dis­cov­ery. I con­fess that I had not heard of Ella Wheel­er Wilcox, a poet from Wis­con­sin who was immense­ly pop­u­lar in her day (she died in 1919), but I know these lines from "Soli­tude": "Laugh, and the world laughs with you, / Weep, and you weep alone;"
Clas­sic Poet­ry is a book to love because it pays atten­tion. The select­ed poems, the evoca­tive illus­tra­tions, the por­traits of each poet with words and art, the notes on the poems, and the index to first lines all cre­ate a book that will rest com­fort­ably on every book­shelf. Con­sid­er it as a treat for your­self or have it on hand to give often as a gift for grad­u­a­tions, wed­dings, birth­days, and baby show­ers. It's an ide­al book of poet­ry for the visu­al­ly-intrigued reader.