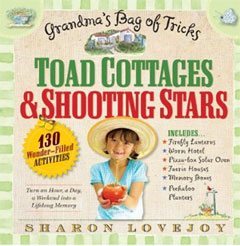 It's after the Fourth of July. The antic­i­pa­tion of parades, fire­works, and pic­nics is a dis­tant mem­o­ry. Now sum­mer­time thoughts turn to … bore­dom. There's noth­ing to do!
Wait a minute …
Here's an idea … or 130.
In Toad Cot­tages & Shoot­ing Stars (Work­man Pub­lish­ing Co), author Sharon Love­joy offers sparks of imag­i­na­tion with eas­i­ly-under­stood, step-by-step instruc­tions. These will appeal to nat­u­ral­ists, food­ists, and gar­den­ers alike. Crafts, hik­ing, cook­ing, read­ing, think­ing, and observ­ing are cov­ered with can't-wait-to-try-this inspiration.
Sub­ti­tled "Grand­ma's Bag of Tricks," I'm using my read­er's license to give you and me per­mis­sion to make use of this book with­out grand­chil­dren. These are espe­cial­ly thought­ful projects and ideas for chil­dren, but you'll enjoy them as adults, too. Par­ents, uncles, day-care providers, librar­i­ans, and babysit­ters will all shout "Hur­rah!" for the nifty ideas. What would you like to try today?
Faerie House? Worm Hotel!
Snack Pots? Garbage Garden!
Fluffy Cloud? Moon Pizzas!
Mad Bas­ket? Tokono­ma for Two!
or my favorite, Moon­light & Eye­shine. I haven't seen a night-time ani­mal eyes guide before.
There are read­ing sug­ges­tions and con­ver­sa­tion starters and fash­ion advice ("Out­fit­ting the Lit­tle Chef") … this book is irresistible.
Noth­ing to do? No more excuses!