On Sat­ur­day, July 10th, author Wendy Orr, from Aus­tralia, and illus­tra­tor Lau­ren Stringer, from the Unit­ed States, cel­e­brat­ed the release of their new book, The Princess and Her Pan­ther, togeth­er. Not only does this not often hap­pen, but it hap­pens even less across con­ti­nents. Wendy joined Lau­ren at the Red Bal­loon Book­shop in Saint Paul, Min­neso­ta, on Sat­ur­day morn­ing and then the two of them gave a pre­sen­ta­tion to the Ker­lan Friends and the pub­lic at the Uni­ver­si­ty of Min­neso­ta's Chil­dren's Lit­er­a­ture Research Collection.
Those who were in atten­dance were lucky enough to hear how The Princess and Her Pan­ther came to be … and there were sev­er­al sur­pris­es. Wendy became an author after her first career as an occu­pa­tion­al ther­a­pist, but she believes her career as an author began because "my moth­er read us bed­time sto­ries and my father told us crazy sto­ries." When she held the gal­ley of her first pic­ture book, Aman­da's Dinosaur, in her hands, she rec­og­nized "the pow­er of my own lan­guage." To Wendy, she felt excep­tion­al­ly lucky to fall in love with the illus­tra­tions for her first book. It was a bit like "see­ing fam­i­ly pho­tos I had nev­er seen before."
You may know Wendy as the author of Nim's Island, the movie from Walden Media star­ring Jodie Fos­ter and Abi­gail Bres­lin. It was Wendy's book first, of course. Or per­haps you know her from Mok­ie & Bik, a lyri­cal book about twins on adventure.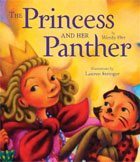 Along the way, Wendy has accept­ed that an illus­trat­ed book belongs just as much to the illus­tra­tor as it does to her. She began work­ing on The Princess and Her Pan­ther twen­ty years ago. Her chil­dren were young, set­ting out on a back­yard camp­ing trip, and Wendy wor­ried that her daugh­ter would be fright­ened, that she would­n't last out­side the entire night. Her daugh­ter took her cat Sal­ly along for com­pa­ny. This was enough to inspire a sto­ry about brav­ery. Over the years, sev­er­al pub­lish­ers held the book. One even hired an illus­tra­tor. It's evi­dent that the book had­n't found its real home.
Then edi­tor Allyn John­ston, now at Beach Lane Books, chose Lau­ren Stringer as the book's illus­tra­tor because "she's real­ly good with cats." A sto­ry about a lit­tle girl and her cat being brave in the night need­ed an illus­tra­tor who was good with cats.
Lau­ren shared her many drafts through an onscreen pre­sen­ta­tion. She and Wendy both start­ed out by chron­i­cling the sto­ry of the girl and her cat run­ning par­al­lel with the sto­ry of the princess and her pan­ther. Allyn advised each of them to choose one sto­ry or the oth­er. Along the way, as Lau­ren worked through her drafts, the cat turned into a lit­tle sis­ter. The Princess and the Pan­ther became a sto­ry of two sis­ters, one brave and one hop­ing to be more brave.
Paint­ed in sump­tu­ous acrylic by Lau­ren Stringer, atten­dees were treat­ed to a video read by Wendy Orr, designed by Lau­ren Stringer, with a musi­cal score com­posed by Lau­ren's hus­band, Matthew Smith. It was a delight­ful experience.
Lau­ren is the illus­tra­tor of many favorite books includ­ing Scare­crow; Mud; Cas­tles, Caves, and Hon­ey­combs (writ­ten by Lin­da Ash­man); Our Fam­i­ly Tree (writ­ten by Lisa West­berg Peters); and her own Win­ter is the Warmest Season.
Accep­tance of the final form of a pic­ture book. Sur­pris­es along the way. Lis­ten­ing to the sto­ry. Mak­ing sense of the sto­ry. It was a treat to hear from the cre­ative team behind this book. The Princess and Her Pan­ther is sure to be a favorite read-aloud, whether to a child snug­gled close or a room­ful of chil­dren wait­ing breath­less­ly to see … what will hap­pen next?