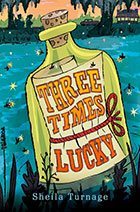 I've just begun read­ing Three Times Lucky by Sheila Tur­nage. Many peo­ple have rec­om­mend­ed it to me, aghast that I have not already eat­en it up.
I've got­ten as far as the ded­i­ca­tion:
For my par­ents — Vivian Tay­lor Tur­nage
and A.C. Tur­nage, Jr. — who taught me to love books.
What a gift. How big-heart­ed and under­stand­ing of Sheila to thank her par­ents in such a pub­lic way. Acknowl­edg­ing this gift is a boon to par­ents every­where.
My moth­er's par­ents were chil­dren of farm­ers. Through­out their lives, they read the news­pa­per (in Eng­lish and Ger­man) and they read the Bible (also in Eng­lish and in Ger­man), but there were no books in their house.
My moth­er grew up in a small, rur­al Wis­con­sin vil­lage. There were 24 stu­dents in her grad­u­at­ing class. Books were essen­tial to her. They brought her the world.
Although I lived the first part of my life in a some­what larg­er Wis­con­sin city, I grew up in Min­neapo­lis, Min­neso­ta, a metrop­o­lis. There were books in our school library, the sup­ply of which I had exhaust­ed by the time I reached sixth grade. More impor­tant­ly, there were books in our house, book­cas­es full of Book-of-the-Month Club books.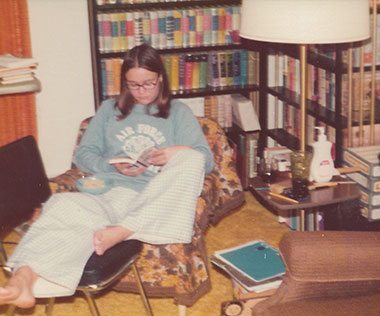 There was a good deal of non­fic­tion because my moth­er liked his­to­ry and pol­i­tics and cook­ing and phi­los­o­phy. There was a lot of fic­tion pop­u­lar dur­ing pass­ing decades. I read those books, even though I did­n't under­stand them. I would re-read them lat­er when I knew a lit­tle more.
The clas­sics were rep­re­sent­ed by Read­er's Digest abridged ver­sions specif­i­cal­ly for chil­dren. Those ver­sions of Lor­na Doone and Tess of the D'U­bervilles and The Tell­tale Heart and The Pick­wick Papers turned me into a per­son who enjoys clas­sic books.
Favorite Poems Old and New by Helen Fer­ris is dog-eared. I was deter­mined to mem­o­rize many of the poems.
"You're a bet­ter man than I am, Gun­ga Din."
"Into the val­ley of death rode the six hun­dred …"
"A bird came down the walk: / He did not know I saw;"
There were many nights when my moth­er and I sat side by side, read­ing dif­fer­ent books (she nev­er read an entire book to me that I remem­ber). We would look up once in awhile to read a line out loud, shar­ing what we'd learned or thought. We read indoors dur­ing the win­ter and out­doors dur­ing the sum­mer in lawn chairs. We read on trips and in doc­tors' offices. We read excel­lent books and we read fluff. We read news­pa­pers and mag­a­zines.
As peo­ple pre­pare for grad­u­a­tion cer­e­monies for chil­dren of all ages, I hope some of those grad­u­ates will remem­ber to thank their par­ents for teach­ing them to love books.
For my own moth­er, whose books sur­round me as I write this: Thank you, Mom. Giv­ing me a love for read­ing by your exam­ple and your stock­ing our house with books was one of the best gifts you ever gave to me, and I love you for it.