'Tis the sea­son for vaca­tions and car trips. Our fam­i­ly is head­ing out soon for a good long dri­ve to the moun­tains. I'm no fur­ther in the prepa­ra­tions than think­ing about which record­ed books we might take on our jour­ney. (This is eas­i­ly one of the most impor­tant deci­sions of any trip we take.)
I asked for requests at din­ner last night, which result­ed in a trip down mem­o­ry lane of past vaca­tions and the books we lis­tened to in the car. Red Read­ing Boots will pro­file a few of our fam­i­ly favorites these next few weeks — know that the books them­selves are ter­rif­ic, but the audio ver­sions take these great books to anoth­er mar­velous lev­el.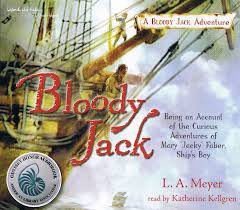 One of our favorites was last year's vaca­tion fea­ture by L.A. Mey­er: Bloody Jack: Being An Account of the Curi­ous Adven­tures of Mary "Jacky" Faber, Ship's Boy. This is the first book in a long series about Mary "Jacky" Faber, one of the most excit­ing and impetu­ous young hero­ines to be found in children's lit­er­a­ture.
I learned about Jacky Faber on Book-A-Day Almanac. Ani­ta Sil­vey so enthu­si­as­ti­cal­ly rec­om­mend­ed the audio ver­sion of the sec­ond book in the series, Curse of the Blue Tat­too: Being an Account of the Mis­ad­ven­tures of Jacky Faber, Mid­ship­man and Fine Lady, that I imme­di­ate­ly pro­cured the first two audio books in the series from the library for our vaca­tion dri­ve last year. There are many more in the series — we could fin­ish out our fam­i­ly vaca­tions on these books, I sup­pose. Nobody in the car would com­plain, which, as we all know, is a mirac­u­lous thing when you're dri­ving for hours and hours a day in a car togeth­er.
To say that these are "curi­ous" adven­tures and misadven­tures is an under­state­ment. When we first meet Mary Faber, she is a young girl scav­eng­ing and bare­ly sur­viv­ing on the streets of eigh­teenth cen­tu­ry Lon­don. She's part of a street gang, but she has dreams of anoth­er life. That she thinks dis­guis­ing her­self as a boy and sign­ing on a British war­ship in search of pirates on the high seas is a good "life choice" tells you quite a bit about her right at the out­set of the series.
The hilar­i­ty, anx­i­ety, fright, and unre­quit­ed hope that the read­er expe­ri­ences as we fol­low Jacky on her curi­ous (mis)adventures makes for quite the roller-coast­er-like read. Or per­haps I should say roller-coast­er-like "lis­ten." Kather­ine Kell­gren, the actress who reads these sto­ries is fan­tas­tic. She has a vari­ety of accents and voic­es at her dis­pos­al, and she can sing a sea shan­ty like no one else. (There are lots of sea shanties and oth­er songs in these books.) Kellgren's voice embod­ies the rau­cous, delight­ful, and admirable char­ac­ter of Jacky Faber. I've since read (with my eyes) a few of the sub­se­quent Bloody Jack nov­els and it is Kellgren's defin­i­tive voice I hear in my head. I will not tor­ture my fam­i­ly with my infe­ri­or read­ing — these are books we will lis­ten to togeth­er.
Full-dis­clo­sure: the Bloody Jack series is PG-13. We lis­tened when the kids were 10 and 16. Three of us cringed dur­ing a few of the scenes. How­ev­er, we also had the oppor­tu­ni­ty to talk about lech­er­ous old men, devel­op­ing bod­ies, love and sex, right and wrong — we were locked in the car togeth­er going 70 mph down the road! There was no escape! (Also, many of the cringe-induc­ing scenes flew pret­ty far over the youngest's head — euphemisms and British slang helped.)
The miles fly by lis­ten­ing to Jacky Faber's antics and adven­tures. Plus, there's quite a bit of his­to­ry — British and Amer­i­can, most­ly, but a fair amount of world his­to­ry and geog­ra­phy. A per­son could feel right­eous and smart lis­ten­ing to these sub­lime adven­tures on vaca­tion!