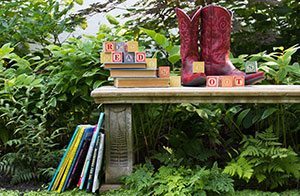 Let me be very clear. I do not ever want my kids to be sick. We've had run-o-the-mill child­hood sick­ness and we've had seri­ous sick­ness — I don't like either kind. I would wish only good health, hap­pi­ness, sun­shine, and lol­lipops for my chil­dren and the chil­dren of the world. And we are for­tu­nate and grate­ful to have excel­lent health care and, gen­er­al­ly, very good health.
That being said…there is some­times an upside to ill­ness. That upside is that every­thing must stop, at least tem­porar­i­ly. We call them in absent to school, resched­ule the work meet­ings, can­cel the birth­day par­ty and soc­cer prac­tice…. When we are sick, we are forced to take to our bed/couch and just get well. And read!
We have had some great read­ing times while sick. Some­times we remem­ber cer­tain books by the ill­ness, in fact. "Remem­ber when we read ________________ when I had _______________?" one of the kids will say.
This gives me just a bit of joy, I must admit. The fright­en­ing asth­ma-induced hos­pi­tal stays are soft­ened by the mem­o­ry of the James Her­riot ani­mal sto­ries we read there. I remem­ber more fond­ly the Hor­rif­ic Fam­i­ly-wide Stom­ach Flu of 2004 when I remem­ber #1 Son read­ing Thomas the Tank Engine sto­ries to his sis­ter, a col­lec­tion I'd read to him when he had chick­en pox a few years before. My daughter's first asth­ma flare is linked to Pip­pi Long­stock­ing in my mem­o­ry and hers. The med­i­cine she was on made her every bit as wild as Pip­pi and she would only sit still and let her lungs calm down if we read her the antics of Pip­pi­lot­ta Pro­vi­siona Garbe­d­i­na Dan­de­liona Ephraim's Daugh­ter Long­stockingose. (Inter­est­ing­ly, Astrid Lind­gren wrote this sto­ry for her daugh­ter, Karin, who was home sick from school.)
What we've found is that sick­ness presents an oppor­tu­ni­ty of sorts. The doc­tor says, "Keep her home for at least the week…." And I think, "A week…we could read C.S. Lewis's Nar­nia series in a week!" I hear a sus­pi­cious rat­tle in someone's lungs and I add Go to library…. to the To-Do List in case we are sud­den­ly con­va­lesc­ing. Heav­en for­bid we be caught at home wheez­ing with noth­ing new to read.
Both kids had strep throat once dur­ing the ele­men­tary years. (I know, we're lucky). I read each of them the Rib­sy books by Bev­er­ly Cleary dur­ing that twen­ty-four hours we wait­ed for the antibi­ot­ic to kick-in so they could swal­low again. This tells me they each had strep for the first time in that first to sec­ond grade time peri­od— the household's med­ical records and read­ing records are com­bined in a file deep in the recess­es of my brain.
We read The Bare­foot Book of Pirates dur­ing The Cold That Would Not Leave Us and Win­nie-the-Pooh dur­ing a bout of Hand-Foot-and-Mouth dis­ease. One par­tic­u­lar­ly unhealthy spring, we read the Ted­dy Robin­son Sto­ry­book exclu­sive­ly at the asth­ma doctor's office — I just kept it in my purse and we pulled it out every time we went there. Love those books with self-con­tained chapters/stories.
Once, we tried to read every sin­gle pic­ture book in the house dur­ing a Virus From Hell. For­tu­nate­ly, the virus left before we'd fin­ished, which says more about the num­ber of pic­ture books we have than the length of that pro­tract­ed virus. And dur­ing Sleep­ing Sick­ness (this is my name for it, not the actu­al dis­ease caused by the bite of a tsetse fly) we read Shel Sil­ver­stein because every­one (includ­ing me) fell asleep if we tried to read any­thing longer than a poem.
In short, sick­ness at our house is treat­ed as an oppor­tu­ni­ty for a read­ing marathon. What's your favorite fevered read­ing mem­o­ry?
Pho­to Cred­it: Kather­ine Warde