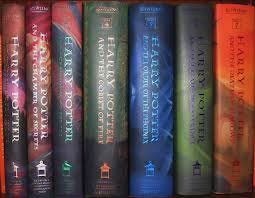 Har­ry Pot­ter and the Sorcerer's Stone, the first book in the Har­ry Pot­ter series, came out a few months after Child #1 was born. In my sleep-deprived stu­por, I didn't notice for awhile; but it quick­ly became dif­fi­cult to be a cit­i­zen of the world and not know about Har­ry Pot­ter. Suf­fice to say, the first four books were in the house by the time that baby boy went to school, which is when and where he found out about Har­ry and friends. The requests to read the books became more fre­quent and insis­tent over the next cou­ple of years.
We stalled. We tried to use the books as a bribe to get him read­ing inde­pen­dent­ly (nev­er do this — it doesn't work and it's ter­ri­ble par­ent­ing). He was anx­ious to get caught up in time for the #5 release — the mid­night releases/parties/mobs were well under­way by then — and it start­ed to feel like we were mak­ing an issue of some­thing that didn't need to be an issue. We weren't trou­bled by wiz­ards and mag­ic. We were thrilled with the themes of friend­ship and the explo­ration of the sub­tleties of good­ness and evil in the books. So what was our prob­lem? Only that the books seemed a lit­tle old for our sweet and gen­tle lit­tle boy — they get pro­gres­sive­ly dark­er as they go, after all. We were anx­ious about intro­duc­ing him to "more mature books" too soon. (First child, remem­ber.) But cul­ture clam­ored and he was get­ting left out because he didn't know about Har­ry and Ron and Hermione, couldn't attempt the spells on the play­ground, and didn't catch the Dum­b­le­dore ref­er­ences.
So Dad start­ed read­ing the series with him. This set-up had its own mag­ic. The whole process slowed down. Dad (unlike Mom) usu­al­ly doesn't keep read­ing even as he is los­ing his voice. He has to be remind­ed to pick up where he left off three nights/weeks ago. And he was work­ing nights and evenings dur­ing some of those years, which was prime read­ing time at our house. So they pro­ceed­ed slow­ly. And togeth­er, which was good. By the time the final book came out, Child #1 was old enough to attend the mid­night par­ty and stay up all night fin­ish­ing the 759 pages him­self before he hand­ed it over to his Dad. (It took Dad much longer.)
And by then, due to the hype at home and every­where, Child #2 was inter­est­ed in Har­ry Pot­ter. She was an ear­li­er read­er and could have picked up the books on her own, but she assumed that Har­ry Pot­ter was the book series you read with Dad! She is almost twelve now and she and her Dad are fin­ish­ing #7 this sum­mer. They've aver­aged about a book a year. I don't believe she has read ahead, which I think is kind of amaz­ing.
A good friend just asked me if kids can grow up with­out read­ing Har­ry Pot­ter. (She was inclined to skip the series, not being a fan her­self.) I said they could, of course. Many fam­i­lies make that deci­sion for all sorts of rea­sons. I imag­ine it would be a lit­tle like grow­ing up with­out see­ing Star Wars in the 1970's, which I did. It's doable. Not always fun. But you even­tu­al­ly absorb enough of the sto­ry to get along….
As for me and mine, we're awful­ly glad to have been a part of the Har­ry Pot­ter hoopla. The kids will remem­ber that they read these books with Dad, and that Mom, in fact, nev­er real­ly read past #3. (Shock­ing, yes!) We've enjoyed the audio­books (Jim Dale is amaz­ing!) and the movies, as well. But those heady days when near­ly every kid and many of their adults were read­ing the same book at the same time…well, that was the best part, I think. Will we see that lev­el of excite­ment and ener­gy around a book series again? I don't know. But I'm glad to have been a part of it this go around.