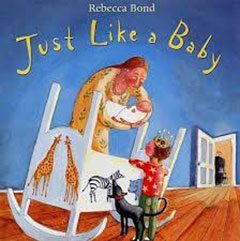 I'm miss­ing a dear friend who died very sud­den­ly this past spring. Liz was old enough to be my moth­er and my kids' grand­moth­er. She loved to give gifts and had an almost mag­i­cal way of doing so. Her taste in books for kids was exquis­ite and she always found the most per­fect, most unique books for us — books I'd some­how nev­er seen before. It is a com­fort to see them on the shelves now.
I took down one of my favorites this morn­ing. She gave it to us almost exact­ly twelve years ago — just before the daugh­ter who has just cel­e­brat­ed her twelfth birth­day was born. Said expect­ed baby had a five-and-a-half year old broth­er anx­ious­ly await­ing her com­ing. We worked hard at giv­ing him the chance to help pre­pare for the baby and it was in the last days of this prepa­ra­tion that my friend appeared with the book Just Like a Baby by Rebec­ca Bond.
The first two-page spread shows three gen­er­a­tions of a fam­i­ly danc­ing their joy at hav­ing found out a baby was com­ing. They decide to make a cra­dle for the baby. (My hus­band was putting the fin­ish­ing touch­es on a hand-made cher­ry­wood cra­dle for our baby at the time. See what I mean? Per­fect gift.) Father builds the cra­dle and Grand­fa­ther paints it. Grand­moth­er makes a quilt for it and big broth­er makes a mobile to hang above it. After each per­son adds their par­tic­u­lar gift, they feel inex­plic­a­bly com­pelled to climb into the cra­dle them­selves and rock gen­tly back and forth, rest­ing in the cra­dle, sleep­ing just like a baby.
The art in this book is whim­si­cal and beau­ti­ful — the floors are pat­terned in tiles and wood and rugs, the family's book­shelves are crowd­ed, their piano is a mess of sheet music. In short, it's a home you'd like to live in — with peo­ple you'd like to live with! — full of grace and ease and charm.
Mama's bel­ly grows with each page turn. Final­ly, with the addi­tion of the most per­fect mobile made by the big broth­er, they move the cra­dle under­neath the win­dow and Mama rocks it gen­tly back and forth, run­ning her fin­gers over the smooth­ly sand­ed wood, enjoy­ing the fish and ani­mals and birds paint­ed on it. She turns down the quilt, watch­es the mobile turn in the moonlight…and she feels the baby move inside her.
When the baby comes, we are told the fam­i­ly loved every­thing about her — her round cheeks and vel­vet skin, her milky smell, the sounds she makes, her warm rosi­ness, and the nice­ness of how she fit into their arms.
When she starts to cry, her fam­i­ly "watched in won­der." And then they tuck her into her cra­dle. She set­tles down imme­di­ate­ly in the cra­dle that father built and grand­fa­ther paint­ed, under the quilt grand­moth­er sewed and the mobile her broth­er cre­at­ed. "She saw her fam­i­ly cir­cled around her…and she slept just like a baby."
Just Like a Baby is the epit­o­me of a qui­et book. We read it count­less times twelve sum­mers ago. I can't wait to read it to my grand­kids — many, many years in the future, of course — and tell them about my friend Liz and her beau­ti­ful way with gifts.