Oh, wasn't it grand to have a tree—
Exact­ly like Mr. Wil­low­by?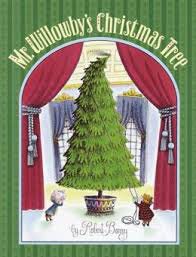 My first­born received Mr. Willowby's Christ­mas Tree (by Robert Bar­ry) from his best friend for Christ­mas 2001. I know this because their names are scrawled inside the front cov­er with the date. I prob­a­bly could've nar­rowed it down to the right year, though. He was four, she was three. We read it count­less times that Christ­mas — and for a few Christ­mases after, too.
Alas, he is now a senior in high school and she a junior, and I have not sat between them on the couch to read the sto­ry in a num­ber of years (though it does still sound like fun). I very much remem­ber how they loved it when they were lit­tle, how­ev­er. They'd laugh at how tree after tree scrunched into the ceil­ing — their chub­by fin­gers point­ing to where the top of the tree would go next….
The sto­ry is one of shar­ing — inad­ver­tent shar­ing at times, but shar­ing none-the-less. Mr. Wil­low­by (who has a charm­ing han­dle­bar mus­tache) lives in a grand home and orders his very tall Christ­mas tree to be deliv­ered by spe­cial deliv­ery. When they stand it up in the spa­cious par­lor win­dow, the tree top touch­es the ceil­ing then bends like a bow.
"Oh, good heav­ens," gasps Mr. Wil­low­by. "Some­thing must go!" So Bax­ter, the but­ler, chops off the top and car­ries it on a sil­ver tray to Miss Ade­laide, the upstairs maid. When she tries to stand it on a table in her mod­est liv­ing quar­ters, the same thing hap­pens. So she snips off the top and throws it away. But Timm, the gar­den­er, takes it home. He and Mrs. Timm love the tiny tree top, which is just the right size for their snug, small house — or will be once Mrs. Timm trims the top and throws it out the win­dow….
On and on, the top of Mr. Willowby's tree is shared — the Bear Fam­i­ly trims it, the Fox Fam­i­ly lops off the top, the Rab­bit fam­i­ly chops it off and final­ly Mistle­toe Mouse pulls the very tip-top branch or two through the snow and ice to his cozy house. And there, it is just the right size! They top it with a star of cheese and Christ­mas friv­o­li­ty ensues. The last page shows Mr. Wil­low­by asleep by his grand Christ­mas Tree and through the mouse­hole in the base­boards, we see a match­ing (though much small­er) tree with the Mistle­toe Mouse fam­i­ly danc­ing around it.
I remem­ber the day (read­ing 157?) my son asked why they chopped off the tree on the top vs. the bot­tom.
"So they could share," his friend said.
"Oh!" said my son in a light­bulb moment.
And then they asked to read it again.
It remains one of my favorite Christ­mas books.