Sev­en­teen years ago today, I became a moth­er. My water broke in the mid­dle of the night and I called my hus­band, who was work­ing the night shift, to come and get me. It was time.
I was ready. More than ready. I had a bag packed with slip­pers and the new bathrobe my moth­er had giv­en me, along with wee lit­tle one­sies and sleep­ers for the long-await­ed baby boy. There were a few toi­letries and per­son­als, dia­per­ing sup­plies, a cou­ple daz­zling white burp cloths, more than enough blankets….and on the very top of this pile in my suit­case, a copy of The Wind in the Wil­lows by Ken­neth Gra­hame, the Sev­en­ty-Fifty Anniver­sary Edi­tion, illus­trat­ed by Ernest Shep­ard.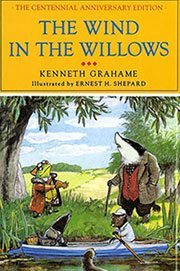 It was this top thing that seemed most impor­tant. I had lum­bered my great-with-child self to the book­store the week before to make The All-Impor­tant-Deci­sion of what book would be this baby's First Book. I'd been think­ing about it since the moment I found out I was preg­nant. I did not have the usu­al first-par­ent­ing jit­ters — I was con­fi­dent in the areas of basic baby care, secure in my breast-is-best and cloth vs. dis­pos­able deci­sions. But it seemed very very impor­tant that I start this child's read­ing off right. The duty took on a sacred sort of feel for me. Any anx­i­eties I did have about par­ent­ing were ful­ly focused in this one area. The book had to be just right.
I do not know why I chose The Wind in the Wil­lows. I had not read it as a child. I'd been raised almost exclu­sive­ly on Win­nie-the-Pooh. I loved Pooh. We had dec­o­rat­ed the nurs­ery com­plete­ly in poohness — Ernest Shep­ard's ren­di­tion of Pooh, no less. But I chose Rat­ty, Toad, Mole, and Bad­ger as my son's first book com­pan­ions. I read him the first two chap­ters before he was born. Lat­er I would wor­ry that maybe those first chap­ters had been too muf­fled in utero for him to ful­ly grasp, so I read them again. As I wait­ed for my hus­band to arrive that night, I amused myself read­ing us Mole's expe­di­tion into The Wild Wood to final­ly meet the recluse, Bad­ger.
When my hus­band skid­ded in on two-wheels, I closed the book, care­ful­ly mark­ing the page, and zipped it into my overnight bag. I was not con­fi­dent I would be able to read dur­ing labor (indeed, I did not), but I had every inten­tion of tak­ing up where we'd left off just as soon as they hand­ed me my baby boy. Which I pret­ty much did, though I was so weary and bleary by then, I can't think I did Grahame's delight­ful prose jus­tice.
I had chil­dren (in part, at least) to have some­one to read to. My chil­dren are 17 (SEVENTEEN!) and eleven today. Here be the chron­i­cle of our read­ing adven­tures.