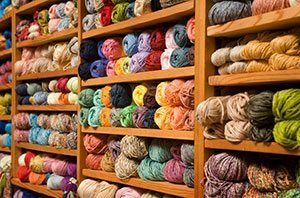 I met her while knit­ting. She worked at the children's book­store next to the yarn store I fre­quent. I was knit­ting with the usu­al group gath­ered around the table at the yarn store when she came in.
"Cat!" my table­mates called out that day. (I'm embar­rassed to admit I don't know if she spells it with a C or a K. This was long before Kat­niss, though.) I'd nev­er met her — only heard about the young woman who read as much as she knit. And there she was in the flesh, both a bag of knit­ting and a book tucked under her arm.
I was intro­duced. It was point­ed out that we have daugh­ters the same age. We looked each oth­er up and down. Me, I'm very much a mid­dle-aged-Luther­an kind of Mom. I knit baby hats in sen­si­ble wool — not very imag­i­na­tive ones, at that. Cat…well, she's a much younger-gyp­sy kind of Mom, com­plete with tat­toos and things woven into her hair. She was knit­ting a com­pli­cat­ed lace tank top from a linen-hemp blend, which she was design­ing as she knit. It was gor­geous. She was absolute­ly as amaz­ing as her rep­u­ta­tion. Her spir­it filled the room and found its way into the nooks and cran­nies of yarn and con­ver­sa­tion.
Inevitably, we talked kids' books. "Have you read…?" And "Don't you love….?" She knit as fast as she talked. I had to stop knit­ting just to keep up my end of the con­ver­sa­tion. And then she said the words that changed our family's read­ing life for good. "Of course, you love Swal­lows and Ama­zons…."
I'd nev­er heard of Swal­lows and Ama­zons. Cat was incred­u­lous. After she gasped and sput­tered and fin­ished knit­ting the row she was on, she spent the next twen­ty min­utes book­talk­ing the Swal­lows and Ama­zons series by Arthur Ran­some with more pas­sion than I have ever heard any­one talk about a book or series. At one point, she stood on a chair ges­tic­u­lat­ing into the sails (that weren't there) of the yarn store's (non-exis­tent) mast as she told me the basic sto­ries of the Walk­er and Black­ett chil­dren.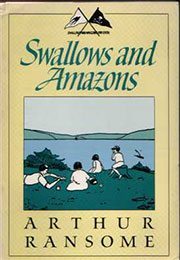 The first book, Swal­lows and Ama­zons, pub­lished in 1930, tells the sto­ry of John, Susan, Tit­ty, and Roger Walk­er. The Walk­er fam­i­ly (sans Dad­dy, who is out to sea) is stay­ing at a farm in England's lake dis­trict dur­ing school hol­i­days. The four sib­lings (ages 7ish-14ish) are allowed to sail a small dinghy named Swal­low across the bay and camp and explore a desert­ed island. (Yes, with­out adults.) It is on this adven­ture that they meet Nan­cy and Peg­gy Black­ett, self-described pirates from the oth­er end of the bay. Quo­tid­i­an and Astound­ing Adven­tures abound and Great Friend­ships ensue.
Cat refused to go into the rest of the series until I'd read the first two books, which she insist­ed I buy imme­di­ate­ly. She walked me to the book­store, hand­ed them to me (they stock them, I learned, because she hand sells them), and took me to the cash reg­is­ter to ring them up. Then, with­out me ask­ing, she ordered the next six in the series for me.
Cat grew up on a house­boat. Their family's enter­tain­ment large­ly con­sist­ed of read­ing the Swal­lows and Ama­zons series out loud, I believe. She'd been thor­ough­ly "brought up" on the books and had read through the series count­less times. Eight years lat­er, I can say we've been through the series a num­ber of times, as well — some books more than oth­ers. In the ear­ly years I read them around camp­fires and by flash­lights in tents while we were on vaca­tion. Our kids often remem­ber places by which Swal­lows and Ama­zons book we read when we were there. We inhaled the first two books on a camp­ing trip on the North Shore of Lake Supe­ri­or the week after I'd pur­chased the books — our kids were nine and three. On a trip to Mon­tana the next sum­mer we read Peter Duck in Par­adise Val­ley dur­ing a wind­storm. We first read We Didn't Mean to Go To Sea when we vis­it­ed the tall ships in Duluth, Min­neso­ta. Win­ter Hol­i­day was read the Christ­mas my daugh­ter had pneu­mo­nia and we were strand­ed at home. The books in this series have been a major part of our fam­i­ly life.
They are not easy books to read aloud. They're filled with sail­ing ter­mi­nol­o­gy, British dialects, and long descrip­tions. When we found that Gabriel Woolf had record­ed them as a labor of love, we ordered them all on CDs. As the pri­ma­ry read­er, I can­not rec­om­mend the audio-ver­sion by Mr. Woolf enough. He's an actor — he's got voic­es! And it is so very clear he adores the books — pos­si­bly as much as Cat.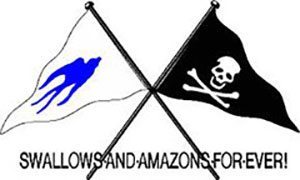 I only saw Cat a few times that sum­mer — I imag­ine she is on some fan­tas­tic adven­ture now. The last time I saw her, she'd added to her tat­toos. The flags of the Swal­lows and Ama­zons are now per­ma­nent­ly inked into her right shoul­der. "I read them all again after I told you about them," she said.
I'm not a tat­too per­son, myself…but if I were to get one, I'd look hard at the same flags.